To end April on a high, The Audiencers' team took a trip to Vienna for WAN-IFRA's Digital Media Europe event to hear from a wide variety of experts working in media companies across the continent (and the Atlantic). From engaging young audiences and retaining subscribers, to the challenges & opportunities of AI, there was a lot to takeaway from the 2-day event. To give you a taste of the expertise on offer, here are 4 presentat that stood out.
"Gen Z are interested in news, but you have to present it in the places where they are" – LADbible Group on engaging young audiences
Subscriptions have continued to rise, but the focus now needs to be on retention – The retention strategies that Die Zeit have put in place to keep trial subscribers
Responding to the needs of an audience in search of quality, local content – how The Mill has gained 4,350 newsletter subscribers across their 3 brands
"Subscribers who receive at least one of the subscriber-only newsletters in the portfolio retain better than those with free newsletters." – The 3 types of newsletters at The New York Times, and how they're using premium newsletters to increase retention
"Gen Z are interested in news, but you have to present it in the places where they are." – LADbible Group on engaging young audiences
"There's this argument that young people don't like news. Well, they do. They perhaps just don't like it in the way you're serving it to them. Or they don't share the same traditional opinion that you have of what news actually is…

Just because it's not what you would find on the front page of a traditional broadsheet publisher, for example, doesn't mean it isn't news. You have to go to where your audience is."

Simon Binns, Managing Editor at LADbible Group
…as they proved in the number of users tuning in to the Covid-19 update on LADbible in 2020 vs that of the BBC: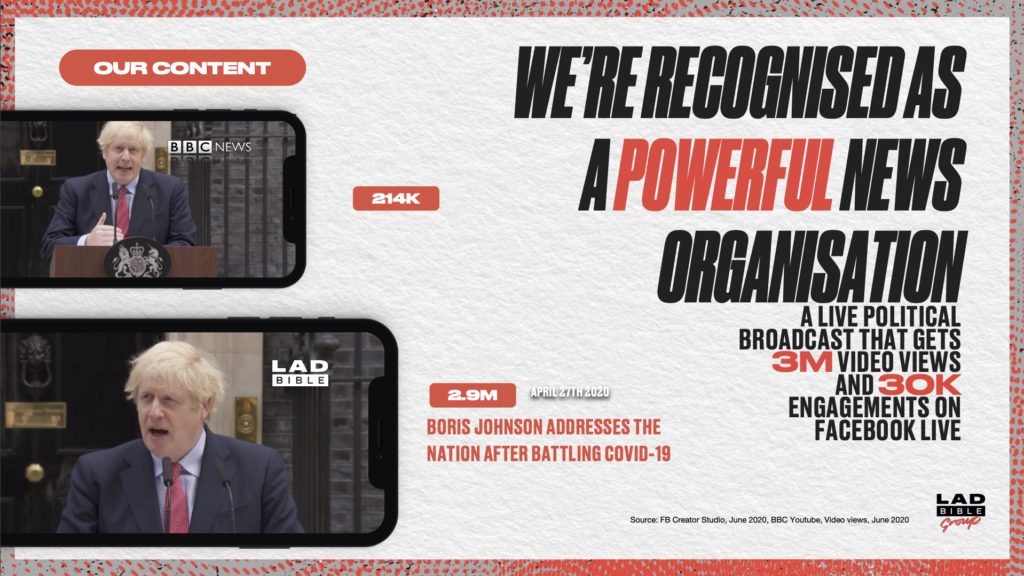 To support other publishers looking to acquire and engage young audiences, Binns shared tips based on LADbible's success:
Employ young people: social natives will see the trends first, they live in social rather than just working there
I've got a 16-year-old daughter, and an 11-year-old son. I learn more about how young people consume content on a daily basis just by watching them than I do with any study that's dropped into my inbox in the last 10 years.
Focus on community and the people around the story
We continue to listen to the audience. We care about the same things they care about. We reflect their own experiences back at them. And we get to be part of a big conversation rather than just telling them what to think. We're part of their daily routine: hopefully a good one.
Be where your audience are, who are likely spending most of their time online on social media, notably TikTok
Tobias Henning, General Manager, TikTok Germany & Central Eastern Europe, seconded this, sharing 5 best practices for publishers to get started on this social platform:
Involve TikTok natives – hire people who are on the platform everyday for entertainment, they're the real experts
Form collaborations between creators and journalists to learn from their expertise and benefit from their audience
Don't recycle material from other platforms! Binns shared that they're now the number one publisher on TikTok, achieving this by adapting what they do to each platform. E.g. They wouldn't just republish the same videos that they use for Facebook or Instagram for TikTok. It's a different audience so the story has to reflect this, almost like having four separate newspapers for four separate audiences.
4. Thanks to TikTok's algorithm, it's about content, not followers – it will push your content without you having a single follower
5. Be authentic! Personality driven content is key
Find the WAN-IFRA Digital Media Europe 2023 program and photos on their website. If you attended the event, you can download the presentation slides with the code sent to you via email.
Subscriptions have continued to rise, but the focus now needs to be on retention. What Die Zeit are doing to retain trial subscribers
Like many publishers, despite seeing a steep increase in digital subscriptions since the pandemic, the German publisher, Die Zeit, has been facing the challenge of converting free trial users to paying subscribers, and retaining them in the long term.

So, what are Die Zeit doing to overcome this challenge?
A culture of experimentation: constantly A/B testing new design, copy and user journeys
For example, they've worked on optimizing their footer bar promoting subscriptions, increasing trial conversion rates by 23%.

As well as testing the balance between a highly visible paywall and allowing readers to engage in the content before being blocked. This is particularly important on mobiles due to the smaller screen. For instance, they tested placing the paywall after 7 lines of text vs 3, leading to a 5% increase in trial conversions.

Research has proven that app usage significantly increases engagement and retention, so they've put a lot of energy into encouraging trial subscribers to download the app, in particular during the onboarding journey

"Our ZEIT ONLINE app is a strong driver for engagement and retention. That's why we're not only trying to convert more subscribers to the app, but we also completely redesigned the app. We anchored a subscriber section in our new app in order to give new subscribers a better point of orientation. This new area features all subscriber-only articles, games and sections."

Christian Roepke, CDO at Zeit Verlagsgruppe
Data also revealed that there's a big drop in engagement after the first day of subscription

"In order to find the reasons for this engagement-drop after the first day, we started an intensive user research phase and discovered a key problem in our onboarding. Most subscribers are highly motivated to explore their subscription within the first day. However, the high number of articles and options then overwhelm them, causing frustration."

Objective: "We wanted to make better use of the high engagement on the first subscription day and to provide better guidance for new subscribers. This is intended to prevent engagement from dropping after the first subscription day and encourage subscribers to retain their subscription even after the trial phase ends."
Solution: First subscription day project
For instance, they set up personalized first day experiences, sending confirmation & onboarding emails as well as a "5 tips to get started with subscription" page in the footer bar on the first article that a subscriber accesses.

Responding to the needs of an audience in search of quality, local content. How The Mill has gained 4,350 newsletter subscribers across their 3 brands
The Mill, high quality journalism and useful local information delivered via email, "for people who want to read local news without endless pop-up ads or misleading 'clickbait' headlines". Founder Joshi Herrmann discussed his motivations for launching 3 newsletter publications and the importance of community for local journalism.

The problem: readers have rapidly lost access to quality local media as broadsheet regional titles are closed and remaining newsrooms have been gutted
The idea: quality local journalism via subscription-funded newsletters that focus on great writing and in-depth reporting
The big focus is differentiation – everything they publish has to be something you couldn't get elsewhere. They keep volumes low so that they can keep standards very high.
The user journey and monetization model is simple, but effective, with a focus on quality news:
Users sign up to the free email list via organic search or by clicking through ads on social media
5% of these readers convert to paid subscription within 3 months, 7% in total
The remaining audience are monetized through ads that are kept to a minimum but slots can be sold at a high price thanks to a very targeted readership
Paying subscribers get 4 newsletters a week, whilst free readers get 2
And it's been a success so far…
The Mill in Manchester is now profitable with 2,100 paying subscribers paying £70 a year and a team of 3 full time staff + part time and freelance writers
The 3 newsletters in 3 cities across the UK have a total of 4,350 paid subscribers
The 3 types of newsletters at The New York Times and what defines a subscriber-only newsletter?
There are 3 buckets of emails at The NYT:
Free briefing newsletters -> introduce readers to The Times and help form habits
KPI = habituation across the bundle
"The Morning" is the biggest in this bucket, sent every morning to introduce readers to the variety of content available.
Automated or semi-automated emails -> with the goal of bringing users back
KPI = Weekly Active Users on site
For super fans of columns, specific writers and features. It's also a huge list of emailable people who can be contacted with the goal of bringing them back to the site and hooking them into a regular newsletter.
Subscriber-only newsletters -> to increase retention rates
KPI = subscriber retention
Differentiate a subset of newsletters to drive subscriber value and positively impact revenue.

What defines a subscriber-only newsletter?
The newsletter must go beyond curation of journalism and add new value that is accessible mostly in the inbox, with onsite as secondary.
Each newsletter should help a reader go deep on a specific niche, or connect to a strong editorial voice.
Community is key. Newsletter writers should aim to foster conversations with their readers.
The portfolio has been shaped into a few genres that provide different values to different types of subscribers:
Reporting and expertise: Helping readers go deep in areas such as tech, political polling and elections, world events, and the climate crisis
Advice and guidance: Pointing readers to their next favorite song, book to read, or show to watch. Offer expert advice, wellness, restaurant recommendations and answering readers' ethical questions.
Opinion voices: Writers from the Opinion section cover niche topics such as the role of language in politics; the economy; faith in today's society; parenting; the future of the planet and more.
"Subscribers who receive at least one of the newsletters in the portfolio retain better than those with free newsletters."

Paige Collins, Senior Product Manager at The New York Times
What lessons could be applied at a much smaller scale?
Trust between product and editorial – business insights blended with editorial instinct works
Learn from small tests and evolve the approach – be willing to decide something wasn't worth it
Keep the reader's needs at the center – what role will this journalism play in their lives?
A special thank you to Valérie Arnould and the WAN-IFRA team for a brilliant event! We'll definitely be back next year!