This article is part of a series of deep dives into digital publishers' subscription models, bringing together Lennart's key takeaways from his podcast conversations (available in German) and Madeleine's research on the wider publishing community.
Having already developed itself from a print publisher to a digital media company, the German newspaper, Süddeutsche Zeitung, is now working towards being financed entirely from digital revenues alone, a goal that they hope to achieve by 2030 at the latest.
In the latest episode of Subscribe Now, Lennart talks to SZ digital managing director Johannes Hauner about their digital transformation, where they got the courage at SZ in 2015 to be one of the first German newspapers to put digital content behind a paywall, and why they also offer puzzles that drive him to the brink of despair.
Here are four key takeaways from the conversation:
1. Transformation is a process, not a state
The introduction of the paywall in 2015 was an important milestone in digital transformation, but the real work was just beginning. Such milestones are important to unite the team around a common mission, but transformation means constantly adapting to change and evolving products.
Prior the launch of their paywall model, heise online reported:
"From the end of March (2015), a payment barrier on the website of the Süddeutsche Zeitung will ensure that only a limited number of articles can be viewed free of charge per user. Der Spiegel reports this and explains that the Süddeutsche relies on the so-called "metered model" that the New York Times has made popular . Initially, ten texts per user per week should be available free of charge on sueddeutsche.de. There are more only when you take out the digital subscription "SZ plus" (for 30 euros per month) or after buying a day pass (1.99 euros). In the future, the number of freely available items should decrease."
Today, the publisher employs a freemium model, splitting content into free and premium, with the latter being reserved for subscribers. This content is tagged with an "SZplus" icon and blocked by a paywall with integrated subscription offers, including a 4-week free trial option.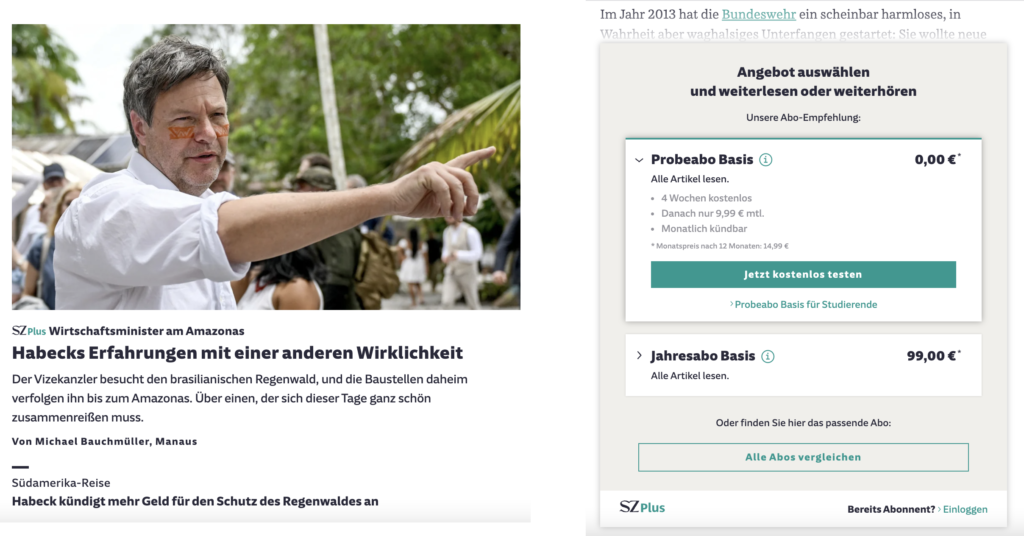 At the time of writing (March 15th, 2023), 25 out of the total 39 articles on the SZ homepage are premium, i.e. 61.4% of articles promoted are blocked by a paywall. As we've seen, visibility of premium content correlates with conversion rates, so SZ's high quantity of subscriber-only articles on the home page will significantly increase the number of users who move through the funnel towards subscription.
Readers are also encouraged to create a free account to personalize their experience through following topics that match their interests. Süddeutsche Zeitung have 5000 topics to choose from.

This has the dual advantage of supporting high levels of engagement to ultimately increase propensity to subscribe as well as improving the user experience so that readers see the value in SZ's content and build a relationship with the brand. On top of this, deanonymization means the publisher can collect key data points to better inform their decision making and further personalize reader experiences to optimize conversion rates to subscription.
2. Long-term success needs multiple revenue pillars
Süddeutsche has always financed itself from both readers and advertising. But, today, thanks to the success of their paywall model, reader revenue now covers the publisher's costs. For Johannes, however, it's important that they don't lose sight of the advertising market as a second strategic pillar given that digital subscription opens up reader groups that are valuable for advertising sales.
WAN-IFRA's World Press Trend Outlook reported that advertising is still projected to be the biggest revenue source in 2023, at 40.9%, but that publishers are finding a better balance between ads, reader revenue (32.8%) and other sources (23.9%), including events, showing a wider recognition of the importance of revenue diversification.
However Reuters Predictions for 2023 suggest that publishers see subscription and membership as the key revenue driver this year.
3. Diverse access to journalism
Traditionally, Süddeutsche Zeitung has stood for the written word, but in recent years they have been able to attract new customer groups through alternative access points and content formats, including podcasts, texts read aloud, videos and puzzles. This has also allowed them to slot their content into existing readers' lives in new ways, such as during car journeys or in moments when they are looking for entertainment rather than in-depth analysis.
With struggles around print expected to continue, Reuters Institute for the Study of Journalism prediction report suggests focus in 2023 will be around finite formats which can add value to existing news bundles. 72% plan to focus on podcasts and audio, 69% leveraging email newsletters and 67% video. 
This format diversification will likely also support the 'retention economy' challenges, providing a wider variety of content that can be consumed in different ways and contexts, fitting better into our post-pandemic lives.
4. Different offerings for different user groups
Different types of readers have different product preferences and willingness to pay. That's why SZ offers digital subscriptions for €9.99, €19.99 and €29.99. For those who read the website alone, there's an entry-level 'Basis' price, while newspaper fans can opt for the complete subscription with newspaper app, SZ magazine and e-paper.

You can listen to the entire conversation and previous episodes with ZEIT, Adobe, Playboy and Medieninsider, among others, at www.subscribe-now.de. The best thing is to subscribe to the podcast directly in the app of your choice.
---
The Audiencers' newsletter: from professionals to professionals
Sign up to our newsletter – real-life examples, expert points of view and inspirations from publishers around the world to help you do your job better. Sent every two weeks.