Charlotte Lundqvist works as a communications specialist and brand developer at the Nordics' largest media company Bonnier News, reaching more than 6 million customers in Sweden, every day. 
What would your boss say if you suggested a customer survey with a few thousand respondents who were given a month to talk freely about what was on their minds? Too resource-intensive? Impossible?
Not if you start with the daily contact that you already have with customers.
In recent months, our customer centre in Örebro has started to build a growing knowledge base that includes both reading behavior and suggestions for concrete changes. The starting point is the thousands of phone calls employees receive every month and a simple set up in Slack Workspace.
Capturing customer feedback
Sometimes the need to vent about the reading experience is the very reason why subscribers to our 45 local newspapers call in to the customer centre in Örebro. In other cases it may be a sidetrack chat after a billing issue has been resolved. But until now, the main challenge has been how best to capture this feedback and present it in an actionable way to the organization.
When the customer centre management team and I started discussing how we could work with customer insights in a structured way, the aim was to find a working method that would not add an additional stress factor during busy periods.
We needed a tool that was easy to use and quick to get started with.
Following advice from DN's customer service, we chose to start with Slack, a collaboration and communication tool that our employees already used. Using Slack's Workflow Builder, we were then able to create an automated flow that met our needs.
How it works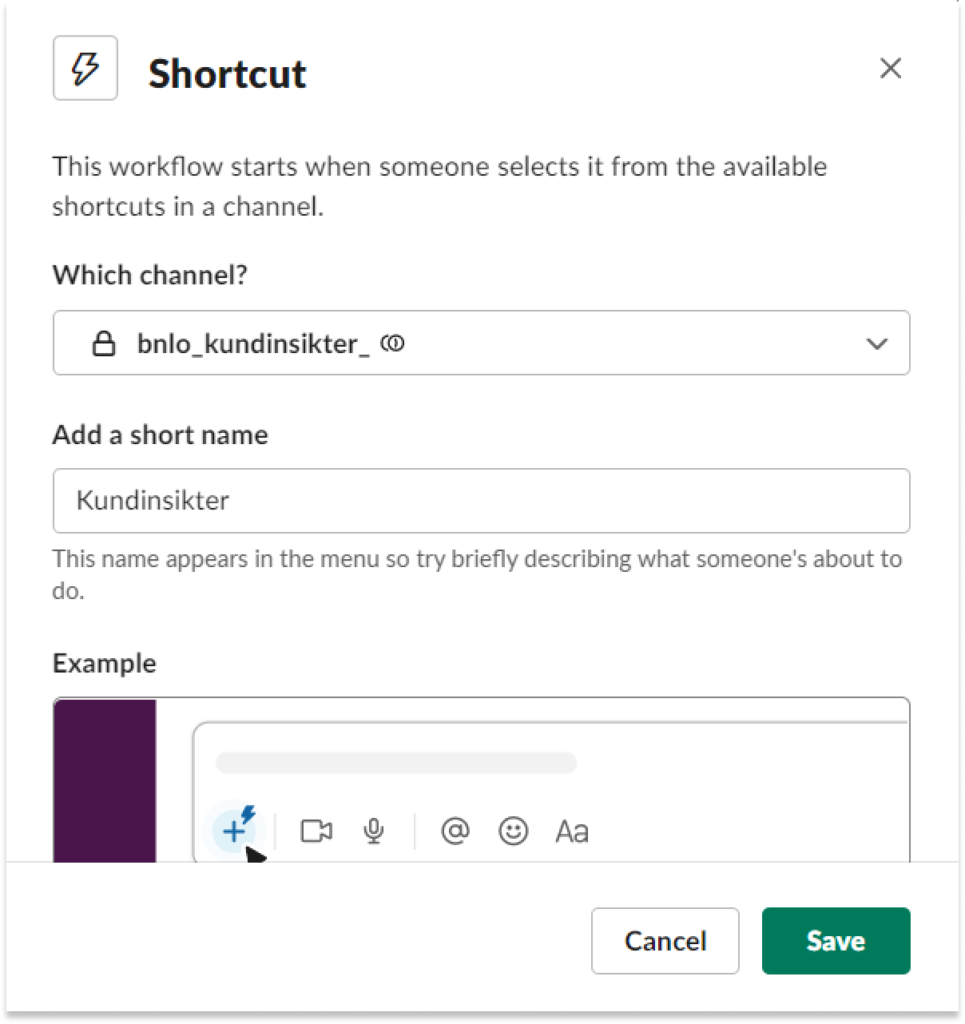 We started by creating a channel for customer insights in Slack.
By clicking on the lightning bolt in the message box, employees can then choose to open a form to record customer comments. In addition to free text, the form includes parameters for the title of the comment, the age of the subscriber and their current subscription package. Just like when you post a regular post on Slack, the content becomes instantly visible to everyone who follows the channel. The flow provides a snapshot of what's being discussed at the customer centre for everyone in the organization to see.
Comments are also transferred to a Google Spreadsheet to make it easier to draw conclusions from the comments received. For example, if a publisher only wants to read what has been written about his or her magazine, or only what customers of a certain age think, this can be easily filtered out.
After just two months, the spreadsheet has developed into a growing knowledge base and the habit of recording comments is taking hold. It is not done after every call, but requires a certain dexterity on the part of staff to be able to determine what others in the company could benefit from knowing.
From customer feedback to product development and innovation
Once a month, as a communicator, I summarize the flow of comments in the What are customers saying? report with a list of topics that have been that most topical. This makes it easier to understand how readers take to the newspapers and our services.
The better we get to know our customers, the better we can deliver where it really makes a difference, whether it's the broader focus of the content or the font size used on our stock market page.
Some requests we solve immediately, others require more thought. Using softer language on our invoice reminder communications was a quickly-fixed request that will hopefully reduce customer stress.
Another thing you learn from reading customer comments is that everyone is different. If a reader calls in to say they love business news but hate reading about jubilees, the next conversation may be just the opposite.
But my hope for the future of this project is that these insights can collectively become an engine for both product development and innovation.
That's why we've also added an action list where reader suggestions are prioritized based on the effort required to implement them and their potential impact on customer satisfaction.
For our customer centre staff, this means that when talking to customers, they can say "I'll take your comments on board" and know that there is someone out there in the organization who is really listening.
---
The Audiencers' newsletter: from professionals to professionals
Sign up to our newsletter – real-life examples, expert points of view and inspirations from publishers around the world to help you do your job better. Sent every two weeks.