Whilst many of The Audiencers' readership will be focused on subscription-funded content, a common misperception of Cookie walls is they are for ad-funded publishers only, but this is far from the case – GDPR requires that publishers obtain users' permissions whatever the purpose. And with the tightening regulations and "Chromageddon", the time to act is now, ensuring your business model isn't negatively impacted by the fall in user consent. Simon Bennett, ex-Yahoo, ex AOL and ex Virgin Media, dives into the topic.
First things first, let's set the context. 

Within the EU, strict restrictions are placed on businesses and websites by the European Data Protection Board (EDPB), with 2 key laws in place relating to cookies - ePD (ePrivacy Directive) and GDPR (General Data Protection Regulation). These state that a website must tell users if cookies are used as well as clearly explain what they do and why. The user must give clear and active consent to cookie usage, except in the case of essential cookies for providing an online service.

Alongside this, many countries are adding in their own restrictions to ensure readers always have a fair choice. In France, for example, from April 2021, it's even easier for users to reject cookies thanks to the requirement of a standard 'refuse cookies' option (take a look at the CNIL for more information). 

This has given rise to the "Cookie Wall". In short, if a user rejects cookies on the CMP banner upon arriving on the site, they're asked to either accept or choose a cookie-free alternative way to access content, such as by subscribing.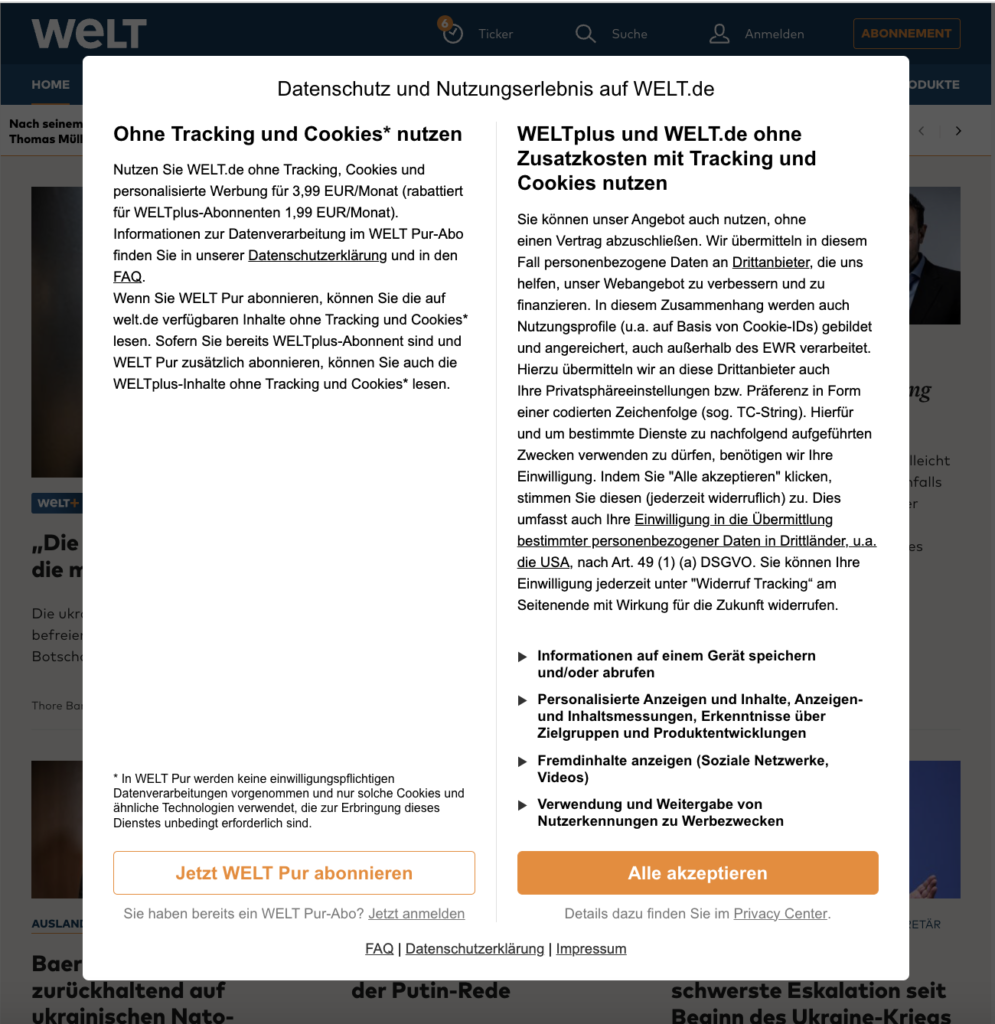 Is it important for all publishers to collect consent?
For subscription publishers, funding models are becoming increasingly intertwined. One example is streaming media services such as Amazon, Disney and Netflix who have all introduced ad-funded tiers to complement their previous "subscription-only" business model.
As for those with ad-funded business models, it's becoming increasingly difficult to survive with ads alone, and media owners will be tempted to seek out alternatives, such as subscriptions. For example, changes in the coming year such as "Chromageddon", the withdrawal of 3rd party cookies on Chrome, the last major browser to support. And the gradual realization from ad-funded media owners that framing readers' choices between subscriptions and personalized advertising can improve opt-in rates for personalized advertising by 23-64%.
Consent is therefore valuable for all publishers, not just those with advertising.
If you use 3rd party content, content embeds or analytics then a CMP may be required. If you operate globally then a CMP is probably required for other non European jurisdictions e.g. California, Utah, Quebec, South Africa, and for most publishers a commercial (i.e. non proprietary) CMP will be sufficient.
But there are a number of changes happening that you need to be aware of
Firstly by 20th November, when TCF 2.2 launches across UK and EU/EEC, media owners must state the number of vendors you work with on the front screen of your CMP. If you're a subscription publisher, and you collect consent for a similar number of vendors as publishers monetizing from ads, it'll be difficult to justify to readers the value of a subscription given that part of the value of premium is data privacy. You'll therefore have to create different CMP workflows to differentiate vendor counts between subscribers and ad-funded readers.
It's not uncommon to see more than 1,000 vendors listed, although there are publishers who have made efforts to consolidate to fewer than 300 without ad revenue loss. Bloomberg UK, who don't sell programmatically, by contrast, collect consent for only 83 vendors.
Other changes include withdrawal of Legitimate Interest for personalization purposes (advertising and content), as well as legislations to make it easier to withdraw TCF consent. More details here.
Importantly, by mid 2024, more than half of browser traffic will no longer support 3rd party cookies. This means websites will need to redesign to accommodate. The ability to personalize ads makes up 70-95% of ad revenue for news sites due to advertising's dependency on audiences to serve the right person the right message at the right time.
Paywalls using 1st-party cookies only should be unaffected, but check with your vendor.
You also need to ensure that you have explicit consent for any personalization, rather than rely on legitimate interest.
So, how should ad-funded media owners adapt?
Some of the alternative strategies are:
Alternative IDs
Develop alternative identifiers using commercial vendors such as LiveRamp, ID5, Lotame, UID 2.0 and ConnectID. These can be enriched by registration walls (or nudges) where ad-funded readers provide their email address or phone number in return for (say) a newsletter and more relevant advertising. This creates a semi-permanent identifier meaning Identity Graphs (the information known about a user) can be richer and therefore advertising more valuable.
Declarative data collection
Expanding declared data through polls, for example, will also help enrich 1st party data, which can be packaged into PMPs (Private Marketplaces) aligned with other publishers' taxonomies.
Improving inventory
Improving inventory via contextual tagging (automated perhaps via an AI solution), tagging articles for #noads if they contain bad news stories ensures better consistency for advertisers. Similarly, measuring inventory for attention as well as viewability, ensuring ad units are consistent performers, can drive incremental revenue, establishing your media as a known quantity and safe haven for advertisers.
Quality advertising
A last consideration is ad blockers. Combined with an ad-funded option, this may provide readers with a zero-ARPU way to access content. Particular emphasis should therefore be placed on the quality of advertising so as not to detract from readers' experience. Returning to Netflix, they are paying particular attention to the percentage of ad time during each show, even though addressable TV ad supply is in short supply within EMEA. The opportunity cost of advertising should be weighted against user experience.
Did you know, ad blockers can also prevent your paywall from blocking premium content, undermining your subscription and advertising model? Find out how to avoid this here.
User experience
Implementing a multi-pronged monetization strategy also requires an overall design, rather than a patchwork of solutions which could disrupt and confuse the reader with a plethora of dialog boxes (subscription, consent, registration, donation, … ). Ensuring the right triggers along the user journey using page view and page type is essential to convert users.
The Guardian doesn't deploy a paywall, instead relying on a cookie wall, as well as donation and registration nudges. These are well planned out, not too disruptive to readers' experience.
Conclusion
Media's monetization strategies will continue to evolve and the single play monetization strategies of subscription-only, advertising-only likely to intermingle. In particular ad-funded models are likely to require more resource investment for reduced revenue due to demise of 3rd party cookies and increased restrictions around TCF. However advertising remains an important revenue stream for many media owners and can mean the difference between profit and loss as well as tapping into new readerships.
---
The Audiencers' newsletter: from professionals to professionals
Sign up to our newsletter – real-life examples, expert points of view and inspirations from publishers around the world to help you do your job better. Sent every two weeks.