You're reading The Audiencers' newsletter #24, sent out on October 16th, 2023.  To receive future newsletters straight to your inbox every two weeks, sign up here.
I admit, when Marion first suggested the name "festival" I was a bit skeptical. But now, given our goal of revamping traditional B2B events and bringing a breath of fresh air, I couldn't be happier with this idea.
And this wasn't just any festival… it was a community of "Audiencers".
137 publishing professionals (!!) from the UK, Spain, Canada & Mexico (to name a few!) who came together for an afternoon of conversations, both on and off stage, about engagement, conversion and retention.
To everyone who came, thank you. We had an incredible day and hope you did too (from the looks of the WhatsApp group you certainly did!)
To those who couldn't make it, we have plenty of recap articles coming your way and, given the success of this first event, we're already planning the next one;)
> For your morning commute, the official video from TAF 1st edition 🕺🏼
In today's newsletter: 
In today's newsletter: 
Bridge roles in practice: the models, strategies and structures for success – the first takeaway article from The Festival doesn't disappoint
Lock-in effects: How to make your subscription irreplaceable
How to dynamically mitigate churn – the "no one-paywall-fits-all" rule also applies to unsubscription!
Further proof of registration for sustainability readiness – data from FT strategies
Content to read this week
Bridge roles in practice: the models, strategies and structures for success
Kicking the Festival off: How bridge roles can be used to bring editorial, marketing and product together to increase ARPU
On the panel:
1. Internal alignment
With digital transformation and the shift from advertising to reader revenue models, it's no wonder that internal alignment is a challenge for publishers today. But solving this is key to a bridge role.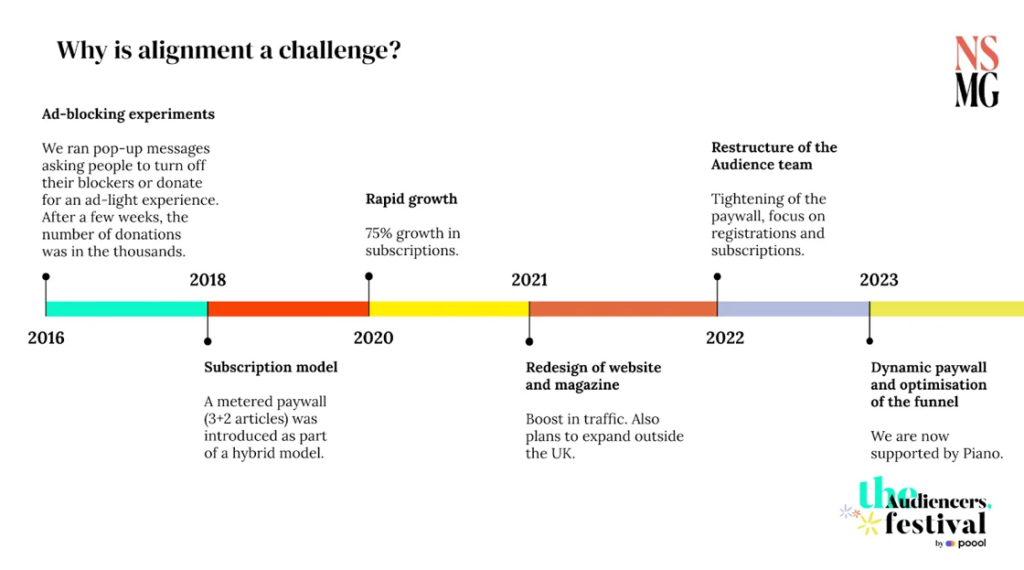 Martina shares how she's supported the New Statesman team in being more aligned:
Define your value proposition and North Star with senior management. Repeat this often during meetings to ensure everyone's working towards the same goal
Identify the customer by carrying out audience reviews
Get everyone in the same room. Set regular catch-ups, get invited to meetings to understand other team's mindset, review as regularly as possible
Get to know the team. In practice, listen! Other people's frustrations can often offer the solution to the challenges you are facing
2. User needs
Lars noticed a problem at Berlingske Media Group – too many articles weren't converting readers into susbcribers. 
The solution? A year-long user needs project to help editors to produce content with a user need in mind, understanding which needs are best for achieving business goals such as subscription.

This research revealed that some needs are very effective at converting, but are under-served (and vice versa). For example, whenever an "update me" story was published, the number of conversions also went up.

3. Bridge roles move your organization forward
Dmitry, Independent publishing consultant and "influencer" of the industry, particularly when it comes to bridge roles and user needs, was the final panelist to take to the stage, discussing some of the essentials for success in bridge roles based on his experience.
Start by relaxing decision makers, people are naturally against change
Words matter – you need a common vocabulary
Those in bridge roles need soft skills and to be able to communication easily
Train people to go from one part of the organization to another
Have tolerance to fail if lessons are learned 
> Find the full article summarizing this brilliant panel session on The Audiencers
Lock-in effects: How to make your subscription irreplaceable

Although there's a line that's (definitely) not to be crossed, you should be aware of lock-in methods at your disposal, after all they're used by leading vendors and possibly your competitors…
The brilliant Lennart Schneider works through 9 types of lock-in effects for you to consider, with examples from successful brands across various industries.
For instance:
– Spotify's promise not just access to music, but more importantly discovery. If I switch to Apple Music, the app has to get to know you all over again before it can make recommendations on a comparable level
– The Washington Post offered a subscription for $50 per year with a price guarantee until 2072 – which, importantly, expires if I cancel or pause my subscription
– Has anyone ever asked you for audiobook tips because they still have 15 credits to use up at Audible? If you don't redeem them, you can still use them in the following months, but you'd lose them if you cancel
> Find all examples and "what you can learn" on The Audiencers
How to dynamically mitigate churn
Churn is, of course, a complicated subject and one that should be mitigated well before the moment that a reader decides to unsubscribe. But what can you do at the this instance? How can you adapt the unsubscription journey to the user?
As Thomas Baekdal recently discussed, the first thing you have to think about is "why". Why are people canceling? What is happening inside their minds at that exact moment?
We can categorize this in four ways:
Can't afford
Got bored
Don't see the value
Pissed off
As you can see, only the first one is positive. The following two are problematic, and the final reason usually means "game over", although it can be avoidable.
First, you need to establish which cause it is – perhaps with a single-click survey. But be aware, if the reason is "pissed off", you want to avoid annoying them even further with a complex unsubscription journey. Instead, we'd recommend making this process as simple as possible – France even recently made it obligatory for subscribers to be able to cancel in 3-clicks or less!
💰 Can't afford your subscription – this is actually the best cause according to Baekdal as it's nothing to do with the value you offer.
The solution: present a discounted offer or, even better, consider ways to further prove the value of your offer, such as with a personalized subscription based on their interests, throwing in additional benefits and making sure they're using your premium product features.
😴 Got bored – this is a lot harder to deal with as it's difficult to know what this individual finds interesting
The solution: personalized offers based on their consumption habits or even a phone call after churning to discover what they'd like to see. The best solution however is to predict churn by tracking engagement metrics.
🤷 Don't see value – this answer should inform your entire strategy, ensuring your products help readers achieve their jobs-to-be-done, solve pain points or fulfill a need (but equally you can't be everything to everyone)
The solution: what other value, aside from 'just' more content, could you give to the subscriber? Are there any parts of subscription they haven't used that they could benefit from?
🤬 Pissed off – the worst category, but one that you need to understand very deeply to ensure this doesn't happen again / that this reader doesn't share these opinions with others
The solution: there's often no way to mitigate this churn… According to Baekdal, "the only way that actually works is if you apologize and tell your reader that you are listening, that you realized the mistake, and that you have already taken steps to fix it" 
Further proof of registration for sustainability readiness
We've talked about it before (here, for instance), but registration – turning anonymous users into registered members – is incredibly valuable for supporting both ad and subscription revenue, collecting 1st party data, personalization, AI… the list goes on. In short, it's valuable for sustainability.
And data from FT Strategies' recent sustainability report further proves this. 

Content to add to your reading list
Have a great week!
Madeleine
---
The Audiencers' newsletter: from professionals to professionals
Sign up to our newsletter – real-life examples, expert points of view and inspirations from publishers around the world to help you do your job better. Sent every two weeks.