Can your subscribers cancel in 3 clicks?
If not, well, since June 1st, you'd be breaking the law in France…
A new legislation requires that businesses allow consumers to terminate a contract online and in 3 clicks or less, whether that be for your electricity, gym membership or subscription.
🇫🇷 As Macron shared "Simpler, simpler, simpler… Let's end complex mechanisms for terminating contracts, it's better to protect consumers. So that's what we're doing"
🇳🇴 Aftenposten recently revealed how a simplified unsubscription process actually led to a 50% lift in the number of subscribers it retains on a daily basis

🇺🇸 There's been a lot of talk about "Click-to-cancel" in the states, with the FTC proposing a formal rule in March to offer straightforward self-service subscription cancellation: 
"The proposed rule would require businesses to make it at least as easy to cancel a subscription as it was to start it. For example, if you can sign up online, you must be able to cancel on the same website, in the same number of steps."

Any other examples from around the world on unsubscription laws and how they're impacting publishers & consumers? What do you think about these new laws in France? Drop me a message – article to come soon.
In this week's newsletter:
How La langue françaisre increased registered user acquisition by 450%
The Telegraph hits one million subscribers – but how did they do it?
How to turn passive followers into active community members
Come join me at Press Gazette's "The Future of Media Conference"
The soundtrack to your next commute
Filtering through my inbox post-vacation I'd almost forgotten that we'd recorded this, but Journalism.co.uk were kind enough to invite me on their podcast to discuss our conversion strategy at The Audiencers and share some of the best practices that we're seeing in the industry at the moment.  
> Listen to the full episode on Spotify or Apple Podcasts (and please excuse the number of "um"s haha it's only my second podcast…) 
How La langue française increased registered user acquisition by 450%
Inspired by The New York Times' conversion model, and the email-first strategy employed by Semafor, the French publisher La langue française set out to achieve 2 goals:

> Increase free account creation to better convert readers into subscribers, responding to the falling advertising revenue

> Be more resilient in the face of the digital giants by developing audience loyalty through a distribution channel that they could control from end to end – email

How did they achieve this so effectively?
CEO Nicolas Le Roux described their strategy as "bitter sweet"…
The "sweet" part: for engaged users, they integrated 3 registration modules into articles (between text, at the end and a pop-up banner) that display a unique value proposition depending on the section of the site.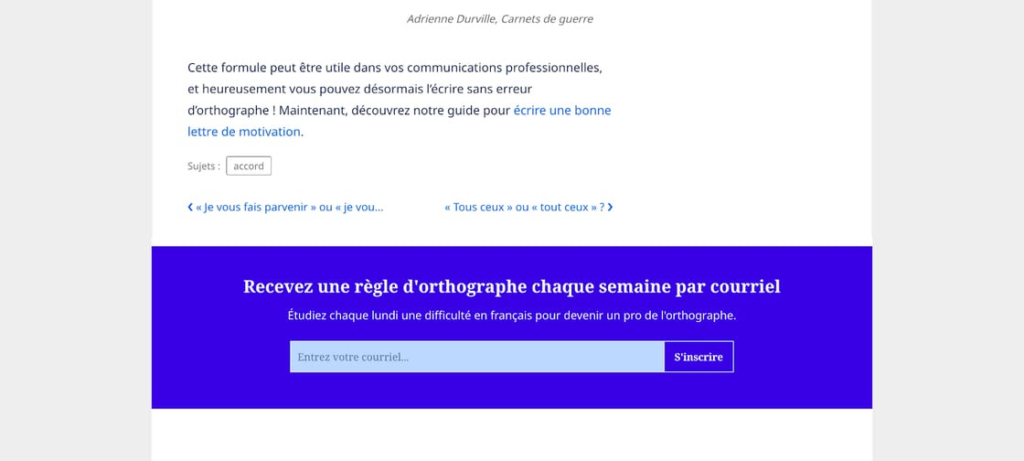 The "bitter" part: for the more reluctant readers, dynamic registration walls based on how much content they've consumed
If the visitor has already read three articles in a week, a wall will block content and ask them to create a free account
If the visitor has completed a quiz, dictation or crossword puzzle during the week, they must register to continue playing.
"Some independent publishers are reluctant to restrict access to content – producing articles and acquiring audiences is expensive, so it seems a shame to restrict the number of readers.
But it's also important to value the quality of the content you publish, and fund our journalism. At La langue française, we pay specialists to publish cutting-edge articles on our themes. For readers, providing their email address in exchange for a quality article isn't all that expensive after all, and visitors easily understand this."

The results so far
"The result of this "bittersweet" strategy? Daily acquisition of new subscribers has increased by 4-5x (450%). After just one month, our thematic path newsletters count several thousand subscribers, contributing to a significantly increased share of email traffic.
Poool's dynamic walls, although only appearing for 19% of traffic, are already responsible for 39% of new subscribers."

> Discover their strategy in full on The Audiencers
The Telegraph Media Group hits one million subscribers
As you've probably heard, TMG recently reached a subscriber milestone, but how did they do it?
Sam Shedden shared his thoughts on LinkedIn:

Dive deeper into the topic:
How to turn passive followers into active community members

15 years ago, the American coffee giant, Starbucks, was in dire financial straits… After expanding too rapidly, its shares had lost 42% of their value. 600 stores had to be closed and 12,000 employees laid off.
Something drastic was needed.
So, when Howard Schultz took over the reins, instead of investing in advertising, social networks or even the product, he focused on the customer experience, and more specifically on the community strategy.
The rest is history… And today, the Starbucks brand, although highly controversial (notably concerning the working conditions of its employees), is an indisputable benchmark in its sector, benefiting from a highly committed community. And the company is far from the only one to have relied on community for its development…
In this piece, Noémie Kempf dives into the difference between followers and community, as well as sharing the essential ingredients for creating an engaged, active community who support your business.
> Find the full article on The Audiencers
The Future of Media Conference: get your tickets before they're gone
What are you up to on September 6th?
Personally I'll be in London at Press Gazette's one-day masterclass covering the strategies, solutions and ideas needed for publishers to thrive in the digital era! It'll be a brilliant day of panels, presentations and keynote speeches from leading figures in digital media worldwide covering topics such as:
Generative AI – how can technology reduce costs and drive revenue?
Market Overview – what trends are showing in the media industry?
Meaningful Audience Growth – what does it look like?
Secure your spot today before they sell out, and send me an email if you'll be around so that we can meet up! 
Content to add to your reading list
---
The Audiencers' newsletter: from professionals to professionals
Sign up to our newsletter – real-life examples, expert points of view and inspirations from publishers around the world to help you do your job better. Sent every two weeks.