You're reading The Audiencers' newsletter #78 sent out on February 22nd, 2023.  To receive future newsletters straight to your inbox every two weeks, sign up here.
"If we know 10% of our users drive 3/4 of our revenue, why do we still design our content and products with the other 90% in mind?"
– INMA's Researcher-in-Residence, Grzegorz Piechota
A study on French publishers suggests that up to 88.9% of audiences are Volatile, visiting a maximum of once per month. These unengaged users have low propensity to subscribe and don't visit enough to bring any significant revenue from advertising.
On the other hand, your most engaged user segments drive more than 75% of revenues… As an example, we can imagine that:
90% of users have an ARPU of <$1.60
9% of users have an ARPU of $40
1% of users have an ARPU of >$240
Which begs the question brought up by Greg – Why are content and products still being designed for the 90% of audiences in mind?
For us, the key is in understanding that not every user has the same value to your business, putting ARPU as your north star KPI to focus efforts on the audience segments that have the biggest revenue potential. To achieve this, user experiences need to be dynamic and personalized, content should be written with conversion in mind and data should drive product-building decisions based on what actually increases ARPU (e.g. registration, newsletters, UX features, etc).
In The Audiencers' Newsletter #8:
Decisions: a new framework to benchmarking digital subscriptions based on no. of subscriptions per 1,000 visits
The New York Times is officially subscription-first: a recent graph illustrates the publishers income per revenue stream, with 41% now coming from digital subscriptions compared to just 26% from advertising
5 hacks to increase conversion rates: after converting the 0.1% of your traffic who can be considered 'Super Fans', how can you continue to acquire new subscribers?
Recommendations to add to your reading list: and the exciting launch of our Conversion Funnel Benchmark Report Q1 2023
Decisions
Benchmarking Digital Subscriptions: An improved framework based on subscriptions per 1,000 visits
Directly comparing publishers based on "number of subscribers" isn't always valuable due to context, size, potential audience, etc.
Instead, Markus Schöberl proposes a ratio of subscribers to digital reach, enabling comparison to be made to a uniform standard.
With this new metric, Markus benchmarked 24 international publishers, finding an average of just under 15 subscriptions per 1,000 visits.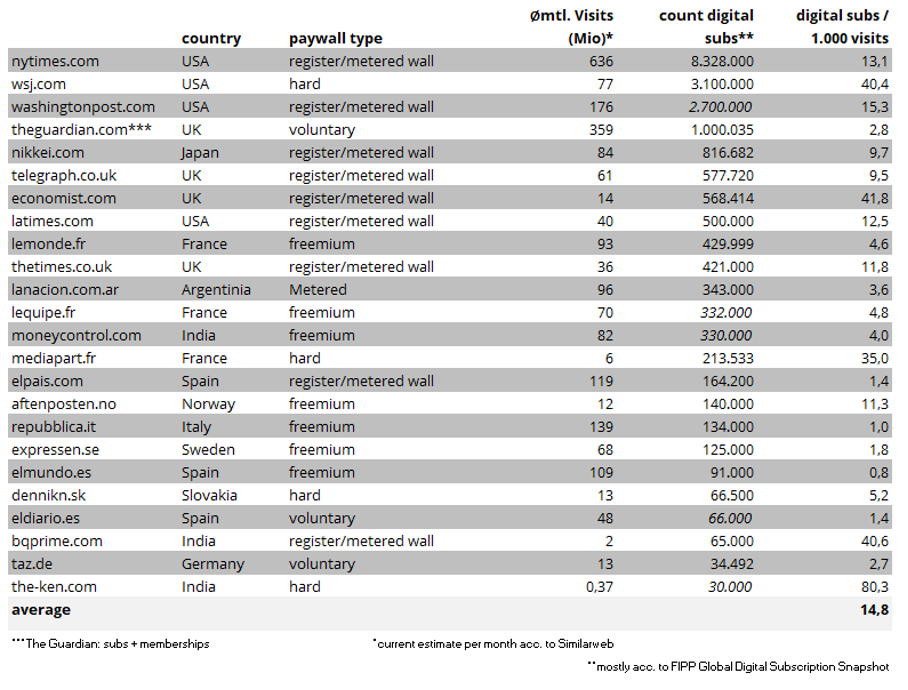 *The Times & Sunday Times have since changed their strategy from metered to hard
Find Markus' full article here.
The New York Times has officially transitioned from an ad-first to a subscription business
A recent chart shows the NYT's revenue by source, illustrating the increasing role that digital subscription has played since 2011, now representing 41% of revenue, well above the 26% from advertising (digital + print):

Back in March 2011, The New York Times did something that very few dared to do at the time. They blocked content online with a paywall.
Many had doubts, but whatever people's views on the matter, The NYT was facing a crisis – ad revenue in free fall, income from print at an all-time low, and online content disrupting the news business. It was time for a digital transformation. The start of a process to become subscription-first.
Clearly, this mission has been a success.
But how exactly did they achieve this? And what can you takeaway to be able to do the same?
A dynamic model that balances engagement & frustration
Registration as a soft conversion step, increasing conversion rates by 40%
Multiple levers for value creation
A paywall that prioritizes SEO, user experience & ease-of-modification over bypassing
Find our full analysis of The New York Times dynamic paywall model here
You've converted the super fans. Now what?
In the first 6 months of launching a paywall & subscription model, your conversion rates will soar as your most engaged user segment, who consume content on a daily basis, convert into subscribers. For this audience segment, the value of your content is clear and you there's no need to work on convincing them much further than simply blocking content.
However, after converting this 0.1%, "Super Fan" segment, considerably more work is needed to increase engagement and gradually lead users towards subscription, something that involves a company-wide effort – from editorial and marketing teams to product and data.
To get you started, here are 5 simple hacks to increase paywall conversion rates for the other 99.9% of traffic:
#1: Make sure visitors see the paywall – most publishers see a 50% loss in audiences between the amount of traffic on premium content, and the amount who actually see the paywall
#2: Optimize the wording on your paywall – why are there still paywalls saying "This article is for subscribers only, subscribe now"? A clearly defined value proposition with tempting benefits and advantages for the reader that match their pain-points and jobs-to-be-done is what's needed
#3: Regularly change your paywall – it takes a matter of minutes but will re-ignite conversion rates. E.g. build a special paywall for Christmas, Black Friday or sales periods
#4: Integrate the subscription offers or payment into the paywall – reduce a step in the conversion funnel, removing a potential friction point (and publishers have proven this strategy to increase conversions by 40%)
#5: Split conversion into 5 steps – with conversion as a single metric, you'll never understand exactly where in the funnel is causing losses in audience. Instead, break it down into 5, more manageable steps that will accumulate into significant improvements to your overall user-to-subscriber conversion rates.
Find the full detail of each hack, tips to optimize this metric and our recommendations on the 5-step conversion funnel on The Audiencers, authored by Poool's CEO, Maxime Moné
In-house content to read…
Learn from others acing the audience development game:
…and recommendations from elsewhere
And, most exciting of all, Poool are launching a brand new report:
The Conversion Funnel Benchmark Report
Aggregated data from over 80 publishing brands in 10+ countries around the world for you to compare your performance to others in the industry at every step in the conversion funnel towards subscription. And, to make these benchmarks truly actionable, we're pairing them with best practices to optimize each metric as well as case studies on top performing publishers 😍
Although this report will be reserved for Poool clients in the future, we're opening this first edition up to anyone who signs up to our webinar on March 8th, 4pm CET (10am EST), where we'll be working through the findings and answering all your questions on the funnel steps.
Sign up to join me at the event here, and if you can't join us at this time, sign up anyway and we'll send you the replay & report following the event ❤️

---
The Audiencers' newsletter: from professionals to professionals
Sign up to our newsletter – real-life examples, expert points of view and inspirations from publishers around the world to help you do your job better. Sent every two weeks.