You're reading The Audiencers' newsletter #5, sent out on January 11th, 2023.  To receive future newsletters straight to your inbox every two weeks, sign up here.
Machines are great and all, but let's not forget about people…
This week's overheard from Emily Bell at The Guardian Media Group fits quite nicely into the current discussions around ChatGPT and AI:
"We as an industry have done a lot of innovating on technology, but human innovation is one of the trends and realities we have to come to terms with as we have put this on the backburner for years now."
Just food for thought, but in a world of increasing dependence on technology, we mustn't forget the importance of humans. Of course, those who don't make use of technology in their job will fall behind. But, equally, the role of humans to accompany technology and bring some creativity (that machines may not be able to produce) is just as important.
In today's Newsletter #5:
Inspirations: how EBRA media increased CTRs by 97% thanks to experimentation
Strategy to steal: we go through The Telegraph's onboarding journey step-by-step to pick out best practices for you to steal for your own strategy
New benchmarking gallery: perfect your value proposition by learning from some of the best in the business
Recommendations to add to your reading list: from The Audiencers and friends
Inspirations
Developing a culture of experimentation at EBRA media
When it comes to continuously optimizing performance, there's nothing more valuable than A/B testing. But EBRA media, France's biggest regional press group, have gone a step further to develop a culture of experimentation across their 9 brands – from trialling soft engagement steps to running temporary walls, the test-and-learn approach has proved invaluable to their conversion rates.
One example that proved particularly successful was integrating subscription offers into the paywall.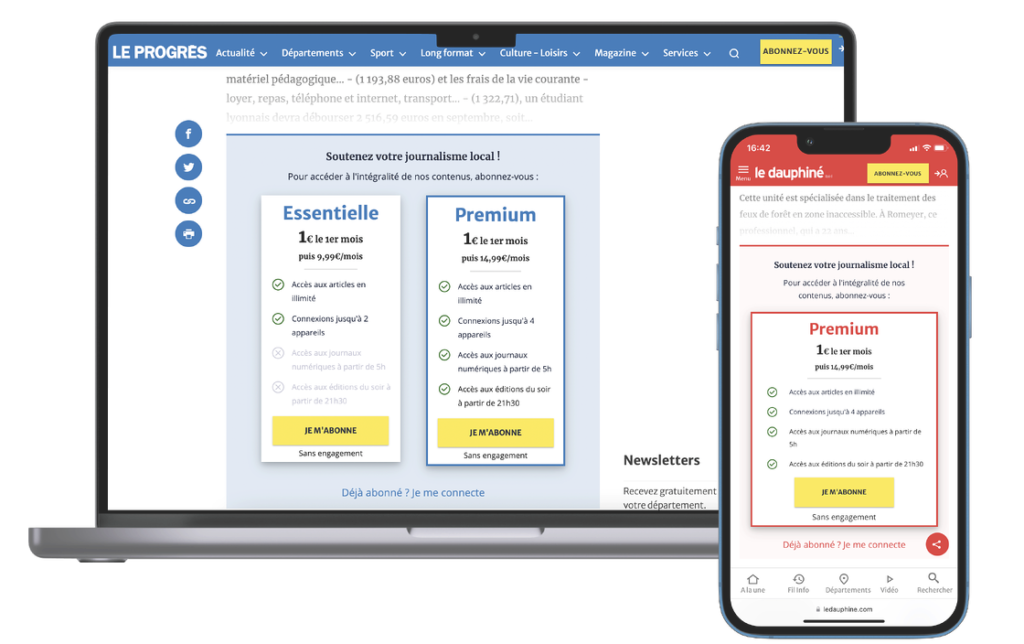 Why did EBRA want to test out this paywall design?
Reduce a step in the conversion funnel to make subscribing simple. I.e. fewer clicks and page redirections
Forefront the benefits of each subscription product
Directly compare the two products, with emphasis placed on the more complete offer (but note that users can trial this offer for the same cost as the "Essentielle" offer)
What were the results? 
After testing this wall on one of their brands, the results were clear: click-through rates increased by 97% and conversion rates by 37%, leading to the group deploying this strategy across all 9 brands.
Importantly, the team made sure to segment their audience based on device-used, building a mobile-friendly version of the paywall that's adapted to the smaller screen. Specifically, instead of the 2 products, they just presented their most complete offer, encouraging mobile users to convert.
Discover other examples of experimentation at EBRA on The Audiencers.
Strategy to steal
Best practices to takeaway from The Telegraph's onboarding journey
Whilst 2021 was the year of subscriptions as Covid brought readers online, 2022 became the year for retaining these converted users, ensuring digital reader revenue could be maintained. And one of the most important (and arguably undervalued) steps to start retention on the right foot is an effective onboarding experience.
It's your first impression – your chance to positively reinforce the buying decision, increase engagement, form habits, welcome the user, deliver value, collect data… there's a lot to gain.
At The Telegraph, each onboarding step achieves a specific goal, aiming to benefit both the new subscriber and the publisher:
1. Download the Telegraph app

Goal = increase engagement and keep The Telegraph's content in a subscriber's pocket at all times. In particular, push notifications from mobile apps are hugely valuable for encouraging users to keep coming back to consume more.
💡 Best practice: make take-up for this step as easy as possible (here they can text us the link, but I've also seen QR codes or emails sending a link to download the app)
2. Choose which newsletters to sign up to

Goal = form habits (THE best strategy for engagement) and personalize the user's experience. Through selecting the content that matches their interests, the subscriber will be less likely to churn as they continue to see value in your product. It also allows The Telegraph to start progressively collecting data on the subscriber to inform their strategy.
Note the little '+' button that makes selection (and multi-selection) easy.
3. Discover some of their subscriber exclusives

Goal = delivering immediate value to reinforce a user's decision to purchase subscription.
4. Welcome email

Goal = make a user feel valued, educate them on subscription benefits, increase engagement and surface content that might be of interest. Images of journalists also add a personal touch to the email, establishing a human relationship between the publisher and their subscriber that can only be beneficial to retention rates.
More content on this important topic to come (and let me know if you have any experience in the subject or interesting insights that you'd like to share!)
New benchmarking gallery
By now, you'll hopefully have discovered our benchmarking galleries, put together to help get your creative juices flowing.
Today we have a new one to add to the collection – Value proposition benchmarks.
Here are a few of my favorites:

The New York Times comes out on top (again), appealing to our natural desire to be part of a shared conversation. The phrasing both excludes us (we don't yet know what everyone is talking about) and invites us to join. 

The New Yorker's focus is more on the quality of their product which will directly benefit the user. Oh and you get a tote bag too… 

This Financial Times proposition is targeted at US readers, likening their subscriber community with 'global citizenship'. By subscribing, readers will gain a global perspective and become a part of a worldwide community (the figures "50+" help to emphasize this point).
💡 Best practice: consider (and test) targeting different value propositions to different audiences. Each user will have their reason for subscribing (their why), so adapting the messaging to appeal to this will have a positive impact on your conversion rates.
Find the full benchmark gallery here.
In-house content to read…
…and recommendations from elsewhere
1. Adblocking has returned to an all–time high
2. Streaming accounts for the majority time spent with TV
3. Local news can be profitable on just reader revenue
4. There's no sign of subscriptions decline…yet
5. Email newsletters are an unexploited revenue opportunity
6. News headlines are in a negative spiral
7. Some emerging tech is good to jump on early. Others, not so much!
Stay in the loop until our next newsletter by giving us a follow on LinkedIn or Twitter.
All the best,
Madeleine
---
The Audiencers' newsletter: from professionals to professionals
Sign up to our newsletter – real-life examples, expert points of view and inspirations from publishers around the world to help you do your job better. Sent every two weeks.