You're reading The Audiencers' newsletter #22, sent out on September 20th, 2023.  To receive future newsletters straight to your inbox every two weeks, sign up here.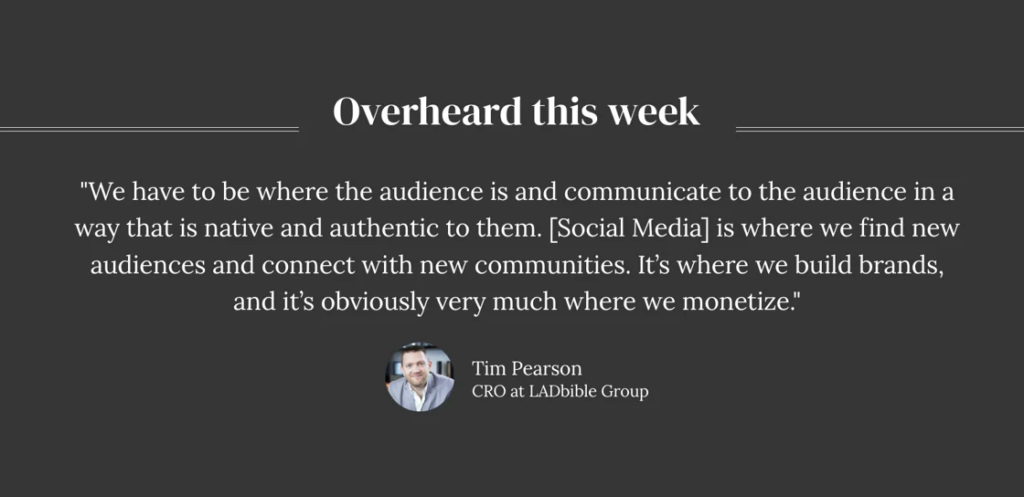 > This week's Overheard is from Press Gazette's recent Conference – find insights and operational takeaways in our article, "Playing the social media game"
In today's newsletter:
Will a paywall damage SEO performance? A shiny new "Ask the experts" article is out covering the all important topic of paywalls and SEO
Live blogging at The Guardian – Is text-heavy, reverse chronology content still relevant? Or does live blogging bring lessons from social media to news websites?
The laws that are making it easier to unsubscribe, and why this won't necessarily damage your revenue (in fact, it could do the inverse!)
The Audiencers' Festival – session spotlight: The value of bridge roles in a reader revenue model
Will a paywall damage SEO performance?!
Barry Adams, independent SEO consultant, is a self-described "old dinosaur of the industry" (hence our designer's inspiration for the cover image!) having worked with brands such as News Corp's Fox News, Daily Mail, The Guardian, Euronews and Politico. 
Given his experience, we decided to run another of our popular "Ask the experts" pieces, questioning Barry on the important question of paywalls and SEO. 

Is the whole question of SEO very different for publishers depending on whether they have a paywall or not?
"No, not really actually! Google seems to have very deliberately made the decision not to highlight paywalled content or penalize them in any other way.So, a paywall in and of itself, if implemented properly, doesn't hurt your immediate rankings in Google's news ecosystem.
The key is enabling Google to see beyond the paywall and get a full view of the content, subsections, links in the article, etc"
Is there a long-term impact on SEO?
"There are longer term, add-on effects which do actually hurt – primarily the fact that Google still uses links said to determine a lot of quality and authority signals, and paywalled news websites tend to get a lot fewer links from other websites, simply because they're not as easily accessible for users, not as widely read and therefore not cited as sources as often. Over time, that lack of linking will result in lower authority signals and therefore lower ranking signals for Google, hurting rankings in the long term.
However, this can be offset by the engaged, qualified users who have subscribed, so publishers may not feel the 'pain' in this regard."
Ultimately, everything Barry said reflects the best practices that publishers should be putting in place for their subscription model anyway. Having quality content, making sure you're teasing with enough engaging articles, but also blocking the good stuff that gives readers a reason to subscribe… It all suggests that SEO and subscription can work really well together.
> Find the conversation in full on The Audiencers
Live blogging at The Guardian
Is text-heavy, reverse chronology content still relevant? Or does live blogging bring lessons from social media to news websites?
The Guardian, who has been live blogging for 25 years, says live blogging is working better than ever, proving particularly valuable for younger readers compared to traditional news formats. However, there's a clear need for continuous innovation to stay relevant, for instance thanks to varied formats, topics and features:

Social is mixed into the feed. Not only screenshots of social media but also the ability to share content on Facebook or X (Twitter) via the icons in the bottom left hand corner of each post
Content can be pinned to the top of the feed and often a post is already pinned by the author
Some longer content is partly hidden, with a "Show more" button
A promotional module asking readers for donations helps to monetize the live blog
If we scroll down the page and a new post is added, a pop-up "1 new update" appears at the top of our screen
The laws that are making it easier to unsubscribe, and why this won't necessarily damage your revenue
France is the latest country to announce new "Click to cancel" provisions that are making it easier than ever for consumers to terminate unwanted subscription payment plans for everything from cosmetics to newspapers to gym memberships.
And, whilst many may assume that these regulations interfere with digital reader revenue efforts, there is increasingly more proof that making unsubscription easier won't necessarily damage publishers' revenue. In fact, on the contrary, some who have already moved in this direction have experienced an above industry average level of growth, including an increase in subscriber retention and customer satisfaction.
🇫🇷 In 2019, Mediapart redesigned their user journeys, coming back to the issue of unsubscription. Having greatly simplified and shortened the subscription path, they didn't think it fair not to offer an equally simple and short cancellation path.

"We took the gamble that the user experience was paramount, and that a subscriber who can leave without friction and frustration will be more likely to return. This feature has been marketed to as strong, reassuring argument in the subscription process – we almost always write "cancel online at any time".
And so far it's been a winning bet at every level, including for our subscriber customer service lines, which used to receive numerous calls and emails asking how to cancel." – Reginald Costa, Product Manager at Mediapart
> Check out our article that looks at the new regulations in France and around the world, as well as how publishers are adapting (and using simple click-to-cancel journeys to their advantage!)
The Audiencers' Festival – session spotlight: The value of bridge roles for reader revenue models
One of the most anticipated sessions of The Audiencers' Festival is our panel on bridge roles – the unique job of threading together the needs of the business, journalists and audience – and how you can benefit from this role to overcome challenges in your company.
"It's very much about being interdisciplinary – not by mastering a lot of disciplines, but by understanding them. Media studies show that co-operation and coordination across silos is paramount in order to succeed – especially when working with subscriptions…
But collaboration like this doesn't just happen on it's own. It needs to be developed, facilitated and renewed – and that is the responsibility of the people in bridge roles."
The brilliant minds of Lars K. Jensen, Martina Andretta & Dmitry Shishkin come together to start our Festival with a bang at 2pm on October 12th in London.

Content to add to your reading list
Have a great week!
Madeleine
---
The Audiencers' newsletter: from professionals to professionals
Sign up to our newsletter – real-life examples, expert points of view and inspirations from publishers around the world to help you do your job better. Sent every two weeks.