You're reading The Audiencers' newsletter #11, sent out on April 5th, 2023.  To receive future newsletters straight to your inbox every two weeks, sign up here.
In The Audiencers' Newsletter #11:
In conversation with 6AM City: tech stack, audience strategy & unit economics
Recirculation: "if done well, recirculation leads to higher engagement, more return visits, a higher ROI on each piece of content, higher retention, and improved conversion rates"
Best practice: be transparent – the value of being transparent with your audience with best-in-class examples
Recommendations to add to your reading list: from The Audiencers & friends
In conversation with 6AM City: tech stack, audience strategy & unit economics
Scaling a single newsletter business is hard enough. Delivering a sustainable local news model to 25 US cities and laying the foundations for another 50 takes the challenge to another level.
In an interview with Andy Griffiths, founder of Champion Newsletters, 6AM City's co-founder & COO Ryan Heafy discussed the strategies behind the company's rapid growth that underpin ambitious roll out plans.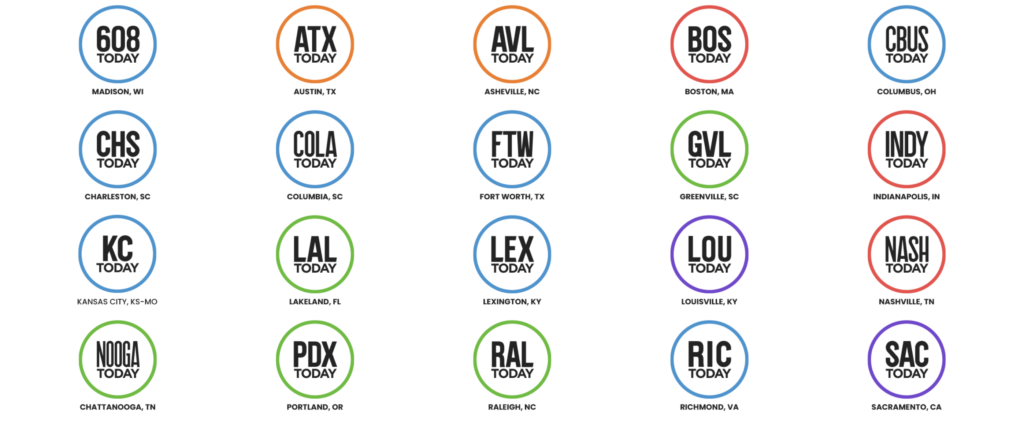 How does 6AM City choose a market?
"In terms of population density, we overlay our target demographics over the census data. Our readership is female leaning and wildly age diverse.
Then we ask: Could we achieve 100,000 subscribers in this market? For us to be profitable and sustainable, we target a minimum of 50,000 subscribers."
What are the unit economics of the business?
"The average acquisition cost of a new subscriber is under $1 and the lifetime value (LTV) is over $25. We are targeting 100,000 subscribers per market, at a $10 annual revenue per user (ARPU), so $1m revenue per city is the benchmark. More mature markets have a $10-$15 ARPU, and brand new markets that are about 1 year old have a $3-8 ARPU, so they grow quickly into maturity."
Lessons from a 6 year tech stack build
Their current tech stack has developed over 6 years and is "pretty much done for the foreseeable future" says Heafy.
"At our size, the content management system (CMS) and email service (ESP) upgrades are both six-figure annual investments and bring significant operational efficiency to the business."
Content management system (CMS): Brightspot
Email service providers (ESP): Sailthru for media business; Hubspot for B2B marketing emails; Klaviyo for the e-commerce business.
Listings: For events, CitySpark. For jobs, real estate, Typeform.
Editorial style and training: Trainual.
> Find the full interview with Heafy on The Audiencers
Why recirculation should be one of your Key Performance Indicators
Recirculation: a real-time metric that compares the number of visitors to a page to the number of users who move from that content to another page.
"Recirculation is the most undervalued aspect of content distribution" according to Jake Volcsko, Digital Media Executive & Chief Operations Officer at DealNews
"It costs almost nothing and keeps readers on your platform (in most cases). Beyond the metrics mentioned in the article [on The Audiencers], if done well, recirculation leads to higher engagement, more return visits, a higher ROI on each piece of content, higher retention, and improved conversion rate."

"For me though, because my roots were planted in circulation at a newspaper, I view recirculation of digital content similarly to the way we used to view someone leaving a copy of the paper at a booth in a restaurant. If left in the right booth, that single newspaper could get read by two, three … 10 people. The difference now is that we can measure the impact of leaving it at that booth, and we can monetize it more than once."
Our article goes into greater detail on why recirculation should be one of your KPIs (including data from Chartbeat) and how to increase it, with takeaways from The Independent.
Best practice: be transparent
It may seem counterintuitive – why would you tell a user when they're going to be blocked by a paywall? Won't they just leave before even seeing it? – but clearly communicating your strategy and explaining exactly 'why' you're doing something can prove highly beneficial to your reader revenue model…
Support close relationships as the reader feels 'included' in your strategy – they know what to expect and aren't going to be blocked by surprise
In a time of fake news, transparency in messaging on your walls builds trust that will transfer to your brand and site as a whole
Increase engagement & propensity to subscribe – the concern is that a user who understands your strategy will be able to bypass their way around it. In fact, clear messaging encourages the reader to buy-into your model, understanding exactly why you're doing this (e.g. to continue to provide independent journalism) and how vital reader support is to your business
Best-in-class examples
"You will have access to five free articles in the next 30 day period" banner at the bottom of content, clearly communicating the publishers metered strategy so we aren't surprised if we're blocked. Upon reaching the limit, a reader may well realize how many articles they consume on The Courier and feel more inclined to subscribe (a similar strategy to The Guardian who tells readers how many articles they've read in the past year).

"Why do we need this" box on each step of the registration journey, explaining why they're collecting these data points. This not only reduces friction in the conversion funnel (the user realizes that every form field is valuable) but it also builds trust, reducing privacy concerns as ITV explain exactly what the data points are used for.

"We use cookies and similar technologies for the following purposes"
Cookies are widely misunderstood by online users, so transparency is even more vital for your cookie consent banner. And we couldn't talk about being transparent & honest without mentioning The Guardian, a publisher that has established a very down-to-earth, friendly communication style that helps gain philanthropic support from readers & build deep relationships.
Their cookie banner clearly explains how cookies benefit the publisher and what they mean for the reader.

In-house content to read…
…and recommendations from elsewhere
---
The Audiencers' newsletter: from professionals to professionals
Sign up to our newsletter – real-life examples, expert points of view and inspirations from publishers around the world to help you do your job better. Sent every two weeks.