Andy Griffiths is a newsletter fanatic! Fascinated by business, journalism, copywriting, marketing and investment, he brings them all together through newsletters. Andy has worked hands-on in the industry for 25+ years, having founded and managed 3 newsletter businesses and launched or acquired 20+ others. He recently launched yet another newsletter, this time sharing the winning formulas for engagement and revenue generation through (you guessed it) newsletters! This article was originally published within this newsletter, The Champion Newsletters. Find out more and sign up here. 
You probably already knew that Morning Brew is a newsletter industry superstar, growing to 4 million subscribers in six years.
Morning Brew, in short
Featured Newsletter: Morning Brew
Status: Daily, consumer, free
Newsletter Type: Engagement + Sales
Purpose: To inform and entertain readers, covering the latest news from Wall St to Silicon Valley. "Informative, witty, and everything you need to start your day."
Launched: 2015
Subscribers: 4 million
Word count: 2,142
Sent from: Morning Brew [email protected]
Subject Line: Do robots have souls?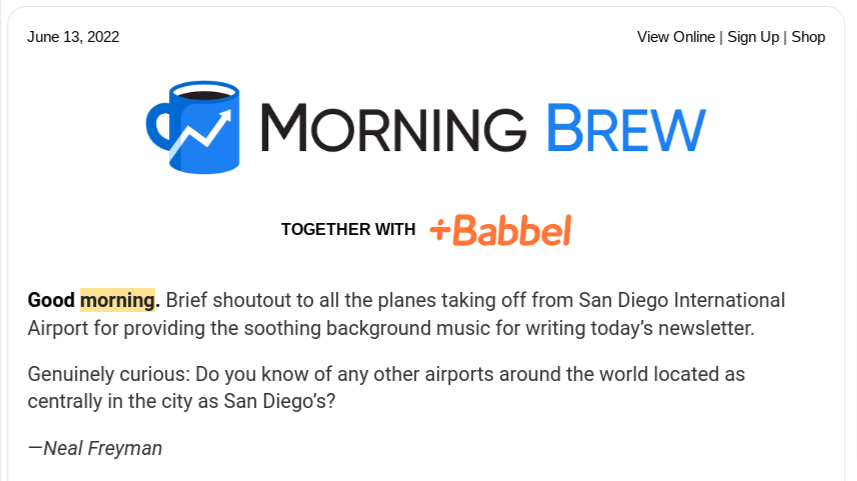 Design: The masthead is plain and simple two colour, with a brand logomark. It's simple and businesslike. No need for fancy graphics.
Next comes a prominent but unobtrusive advertising brand logo. The relative size of the masthead and the brand logo is just right. Any bigger and it would compete with the masthead – any smaller and it would be inconspicuous.
This arrangement means the reader is gently but firmly introduced to the Babbel brand. "Together with" is nicer and warmer than saying sponsored by.
This is the publisher giving a nod to the fact that they and the reader are in this together. Without the sponsor there would be no free newsletter.
Editorial: Even though this is a business-like newsletter for young professionals, content starts not with an urgent dive into the news, but with a friendly greeting, and continues with a human take on events.
Business coverage never used to come with a smile and a welcome.
The welcome note today is from Managing Editor Neal Freyman.
Neal makes a wry comment about editing the newsletter in an airport amid the "soothing" music of aircraft taking off, and invites reader involvement with a question about airports. This sets the tone.
You feel like you're in good hands, being guided through the day's interesting news by someone who is present and on the case for you this morning.
Here's a breakdown of the main editorial elements
The newsletter carries 36 mostly curated items. There is little or no original reporting.
There are 3 largish editorial articles without links, then we move into round-ups that invite reader to click to the Morning Brew website or to other sites.
There are 5 different short bullet-point type features that look at current and future news, items of light-hearted interest or trivia.

1. Market Report
It's a Monday morning, so instead of a previous day's market report, there are year to date numbers providing longer view context to the financial markets.
The commentary is conversational, trying to connect to investor emotion at the market slump.

2. Main article
The author acknowledges that Artificial Intelligence is a heavy subject for a Monday morning, and just by doing this lightens the mood.
A Google employee claims to have had an "emotional conversation" with a Google chatbot. Google denies this and their side of the story is given equal weight.
At the end there's a section called The Big Picture, which gives context and the author's considered comment.
The source seems to be The Washington Post and Morning Brew doesn't have a problem "lifting" much of the detail for a fulsome 390-word version of its own. The Washington Post is credited but there's no link.
This approach is commonplace in curated newsletters, particularly where a story has been widely reported by many media outlets.

3. News summary
Entitled Tour de headlines, this is three paragraphs of 60-120 words, each with an emoji to give a lift. Today it's gun reform, white supremacist arrests and a heatwave in the West.
Space and reading time is saved by condensing and bolding the headline in the first line, instead of giving it a line of its own. Great sub-editing summarises a complex story yet includes significant detail and historical context.


4. Calendar, Grab Bag, Brew's Bets, What Else is Brewing:
There's similar brevity applied to these four other sections. 
The word count of each item often tapers down as we go through the list, accelerating the reading speed and pushing the reader to the end, and on to the next item.
In Grab Bag, there's the regular formula of a quote, a statistic, or something else to read or watch.

5. Advertising
At the start of the newsletter, we were already introduced to Babbel and the "Together with" line is repeated to introduce 130 words of advertorial copy. This is native advertising – copy in the same style as editorial but selling a product.
The advertorial doesn't seem pushy, mainly because copy is written intelligently and with readers in mind, and crucially, in the voice of the newsletter: "You could be speaking a new language in just 21 days…" and there's a seemingly generous 60% off offer as well.
The way the copy is presented implies it comes with Morning Brew's endorsement, for which the advertiser is presumably paying premium.
With this level of closeness, advertisers need to be selected with care, as the product being sold will ultimately reflect upon the newsletter brand.
Babbel is the only prominent advertising and the publisher resists the temptation to sell a second advertising slot lower down. The balance between commerce and reader experience is a constant challenge for publishers and Morning Brew gets it just about right.

There is less obvious native advertising within the Brew's Bets section, which starts with five links to business, money and media articles of interest.
At the end are two paragraphs of sponsored advertising content, denoted by an asterisk.

6. Referral Programme
The engine of Morning Brew's growth. Each newsletter contains details of how to earn merchandise by encouraging friends and family to sign up.
The scheme seems generous, persuasive, and above all easy.You even get a running total on the referrals you've made.
Conclusion: Morning Brew is a pacey, "we won't waste your time" offering for a busy 25-35 something professional waking up and wanting to be informed, quickly.
Here are the 3 best practices that underpin the success.
Superb word craft with tight but light writing, sub-editing and a sense of humour.
It's lively, the snippets are interesting, there's no filler stuff. Links are to external sources of information of real value.
The news is fresh but the delivery gives the edge, using relaxed and more accessible language than formal newspaper reporting. There are shortcuts, shorthand and signposts everywhere.
2. Carefully balancing the interests of readers and advertisers.
In the commercial department, there's a delicate dance between selling advertising to fund the newsletter and serving the reader without demands and distractions.
Although there will always be questions about the line between editorial and advertising, Morning Brew takes a fair view, disclosing commercial relationships.
There are subtle efforts made to explain to readers that the newsletter wouldn't exist without advertising.
3. A highly effective referral programme.
There's nothing better than a personal recommendation and Morning Brew's in-house developed referral software has supercharged what would already have been fast adoption rates.
This isn't the place to analyse the intricacies of referral programmes, but needless to say they are now firmly on the agenda for newsletter publishers, and independent services providers are queuing up with offerings.
Final thoughts
No one should underestimate the mountain of work that goes into producing such a comprehensive, interesting and above all, alive newsletter, every morning.
The phenomenal growth shows the upside of investment in quality, accessible content, supporting by this advertiser funded business model.
It's why Morning Brew hit $36m in half-year revenue this year (across all its newsletters), and is on track for continued expansion.

You can read the full Morning Brew newsletter here, or sign up to Andy's Champion Newsletters here to receive best practice newsletter case studies and strategies in your inbox.
---
The Audiencers' newsletter: from professionals to professionals
Sign up to our newsletter – real-life examples, expert points of view and inspirations from publishers around the world to help you do your job better. Sent every two weeks.