It's well understood that content marketing is a valuable strategy for audience and client acquisition. But there's an emerging trend of brands actually establishing their own media, either acquiring, investing in or launching a print or digital publication.
And it's easy to see why…
Create brand awareness and support acquisition of new audiences
Educate audiences, positioning themselves as experts
Collect first-party data to understand audiences
Build credibility and trust, developing close, lasting relationships with users to increase CLTV
Provide a service
And, ultimately, generate sales and increase revenues
The benefits of a brand publishing strategy are clear, but how are brands achieving this transition? What do some of the most successful brand publishers have in common?
In this article, we benchmark 7 brand publishers, looking at what they've done well and how they're maximizing the potential of this strategy.
"The Red Bulletin" by Red Bull – engagement through a variety of formats
"Metropolitan" by Eurostar – a focus on retention and bettering a customer's travel experience
"Welcome to the Jungle" – lead generation, expertise and community building
"The Hustle" by Hubspot – brand acquiring a publisher for marketing strategies
"Tablespoon" by General Mills – additional value provided to registered users
"Makeup.com" by L'Oreal – expertise and data collection
"Here Magazine" by Away
The Red Bulletin, by Red Bull
The Red Bull brand is well recognized for their campaigns and events, going 'above-and-beyond' the average marketing strategy. In 2005, they took this a step further by launching The Red Bulletin, an active lifestyle magazine featuring sports, culture, music and adventure stories in both print and digital, that could very easily stand alone as a world-class publication without the brand behind it.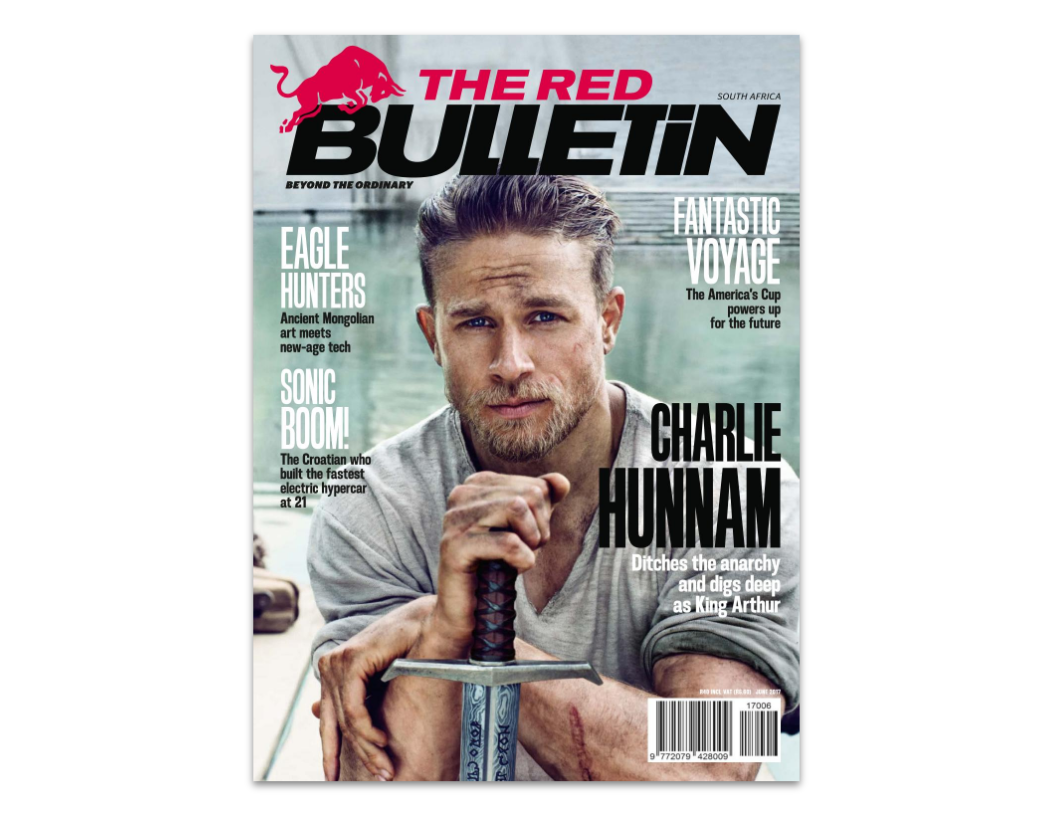 The high quality content is accompanied by UX features that encourage interaction and de-anonymization, developing closer, stronger relationships with readers. For instance, visitors can save content via a button at the end of articles which, when clicked on, requires a user to create an account.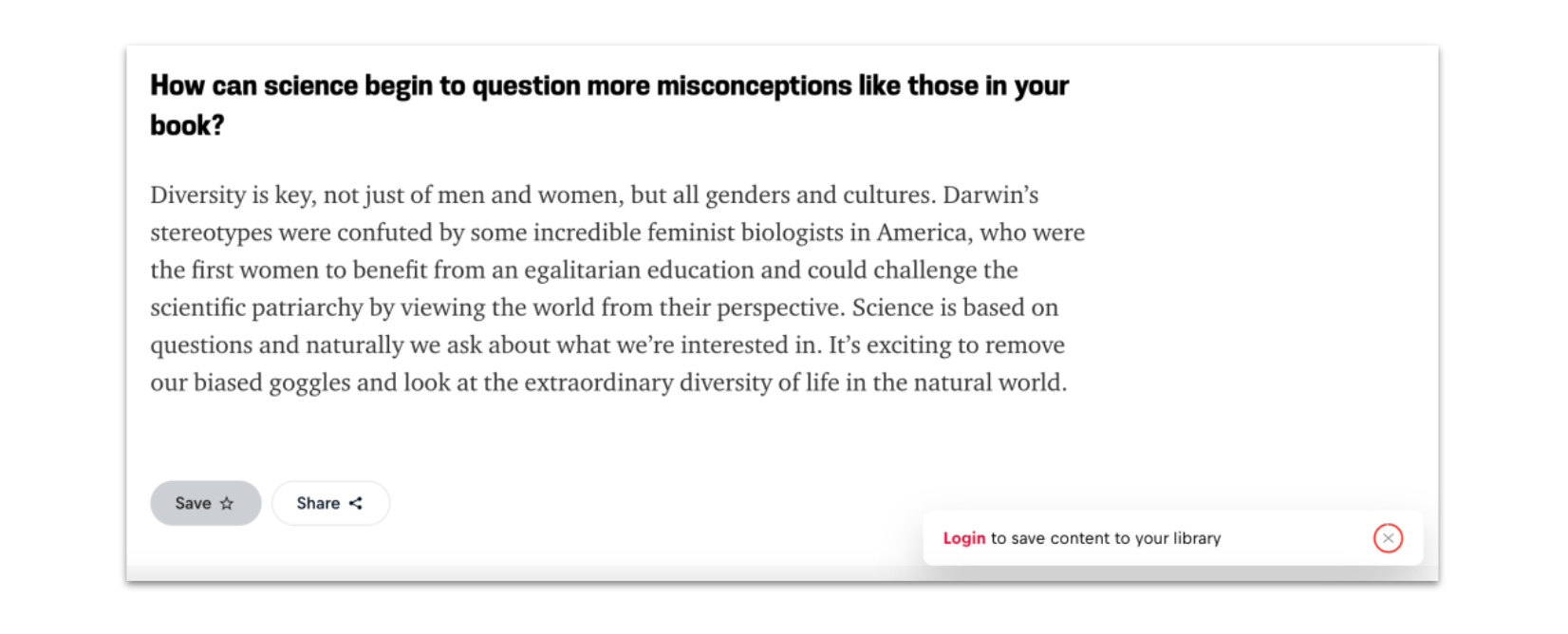 The Red Bulletin is also brand agnostic, meaning they rarely mention the products that they sell. Arguably, the goal of this publication is to not only diversify revenue streams and gain brand visibility, but also to build 'energy' around the brand, promoting an active and adrenaline filled lifestyle that goes hand-in-hand with their products.
The form in the registration funnel is kept simple and doesn't require much information from a user, making for a smooth conversion process whilst still providing Red Bull with key data points to inform their strategy and track a user's interactions with the site across devices.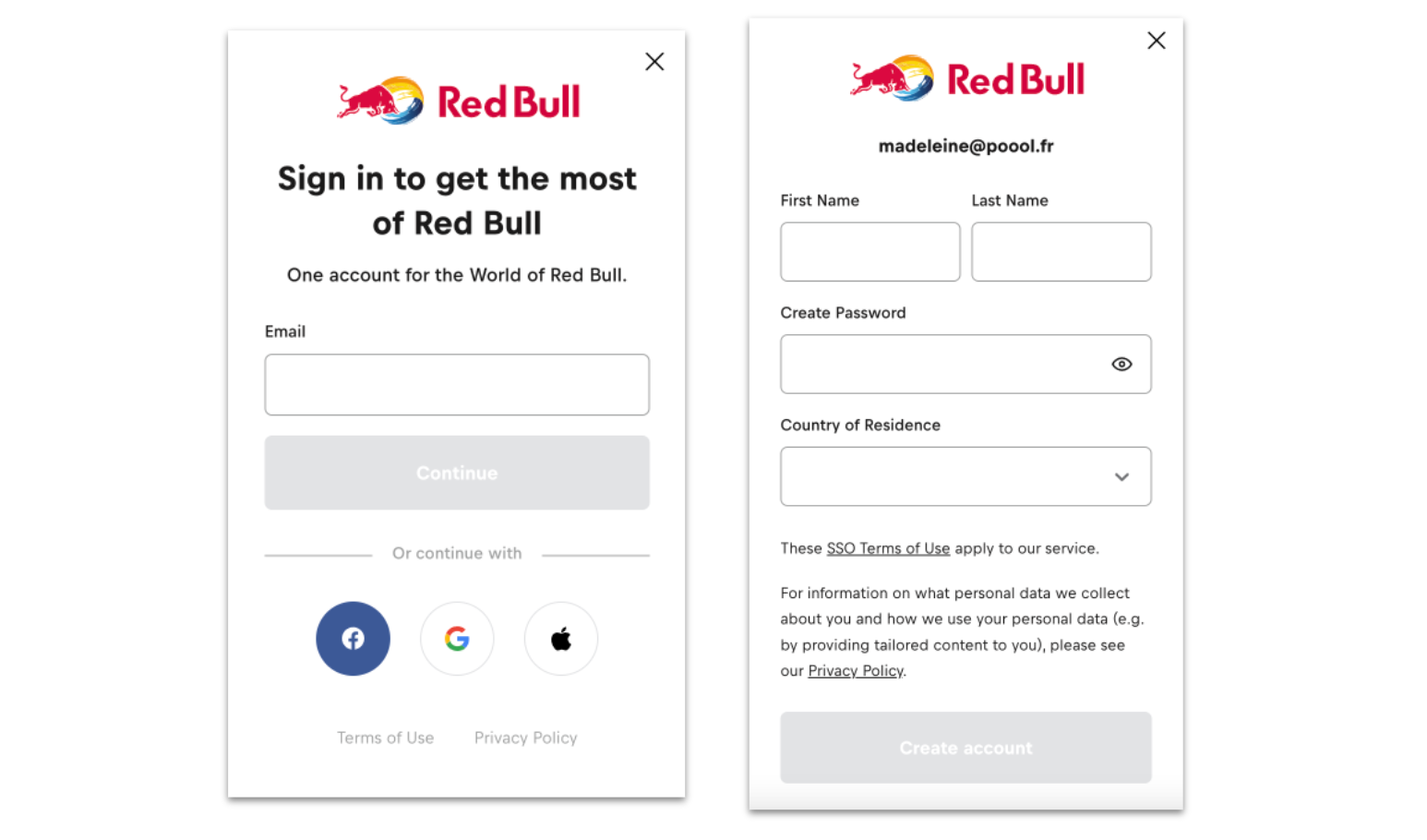 To increase engagement and frequency of visit, Red Bull produces content in a variety of formats, including written, video, live footage and a print magazine. This additionally allows the publisher to offer more value in exchange for conversions, such as registration.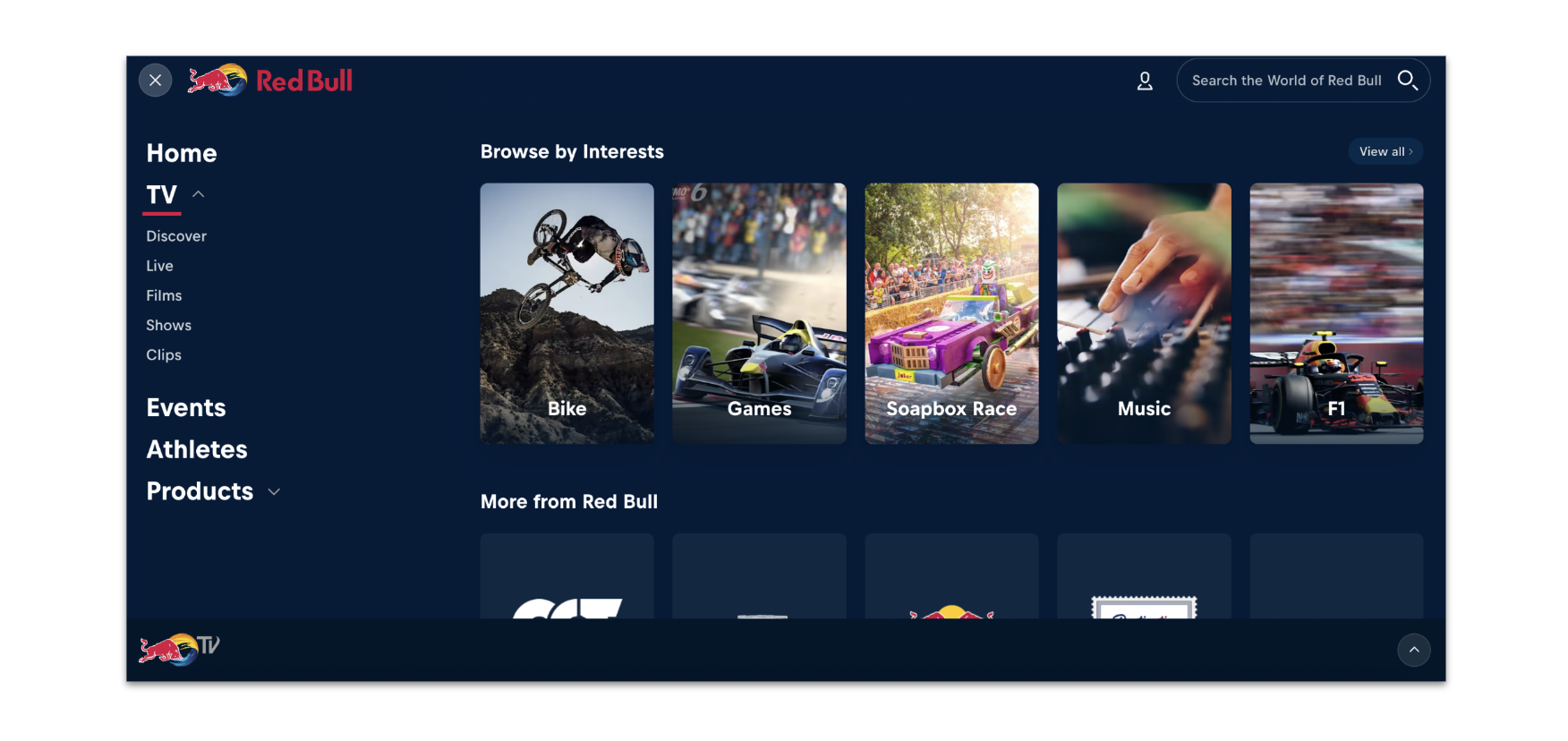 ✅ UX features to encourage interaction and conversion
✅ Registration for data collection, increased engagement and boosting propensity to become a client
✅ High quality content in a variety of formats
Metropolitan by Eurostar
Metropolitan, an interesting brand publisher to look at, is published by Eurostar and covers culture, food, design and tourism ideas when visiting the 4 cities that it connects – London, Paris, Amsterdam and Brussels. Although primarily running in print, they also offer a PDF-style digital version online.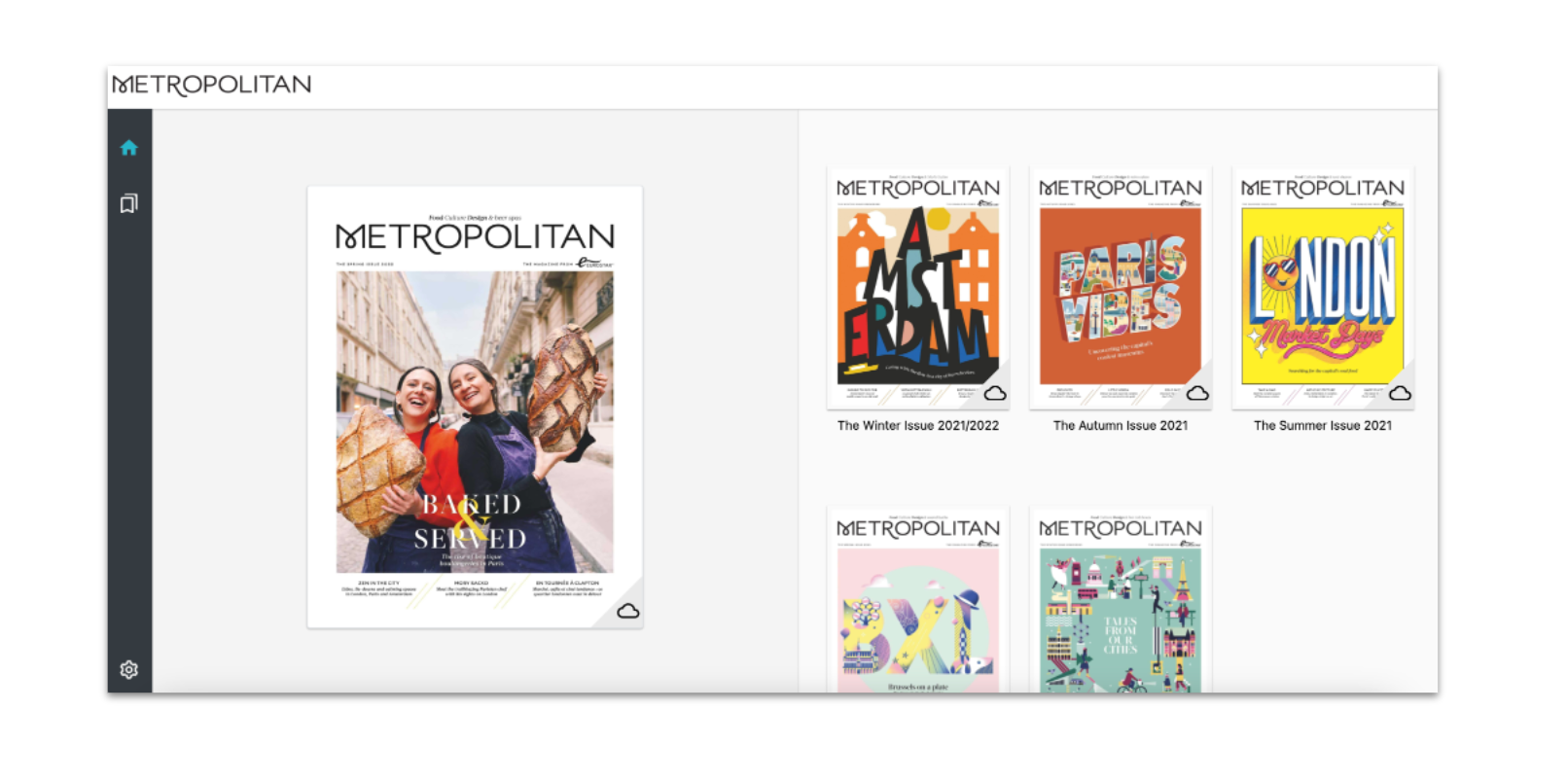 On the one hand, Metropolitan could be considered as self-promoting, given that they only cover the 4 destinations served by Eurostar. However, the publication is equally brand agnostic and rarely mentions how a reader can actually get to the city.
In this sense, the publisher's focus is on retention rather than acquisition – they aren't directly promoting Eurostar's service but are instead helping to enhance an existing customer's experience whilst traveling with Eurostar (after all, this publication is only available in print on the train itself). By building excitement amongst travelers on their way to a city and providing ideas of what to do once they arrive, Metropolitan improves both the transport experience itself and the customer's trip away, which naturally encourages them to take Eurostar again in the future, leading to high returning customer/retention rates.
The added bonus is that this magazine positions Eurostar as experts of these 4 cities, making readers think of the brand whenever they plan a trip to London, Paris, Brussels or Amsterdam.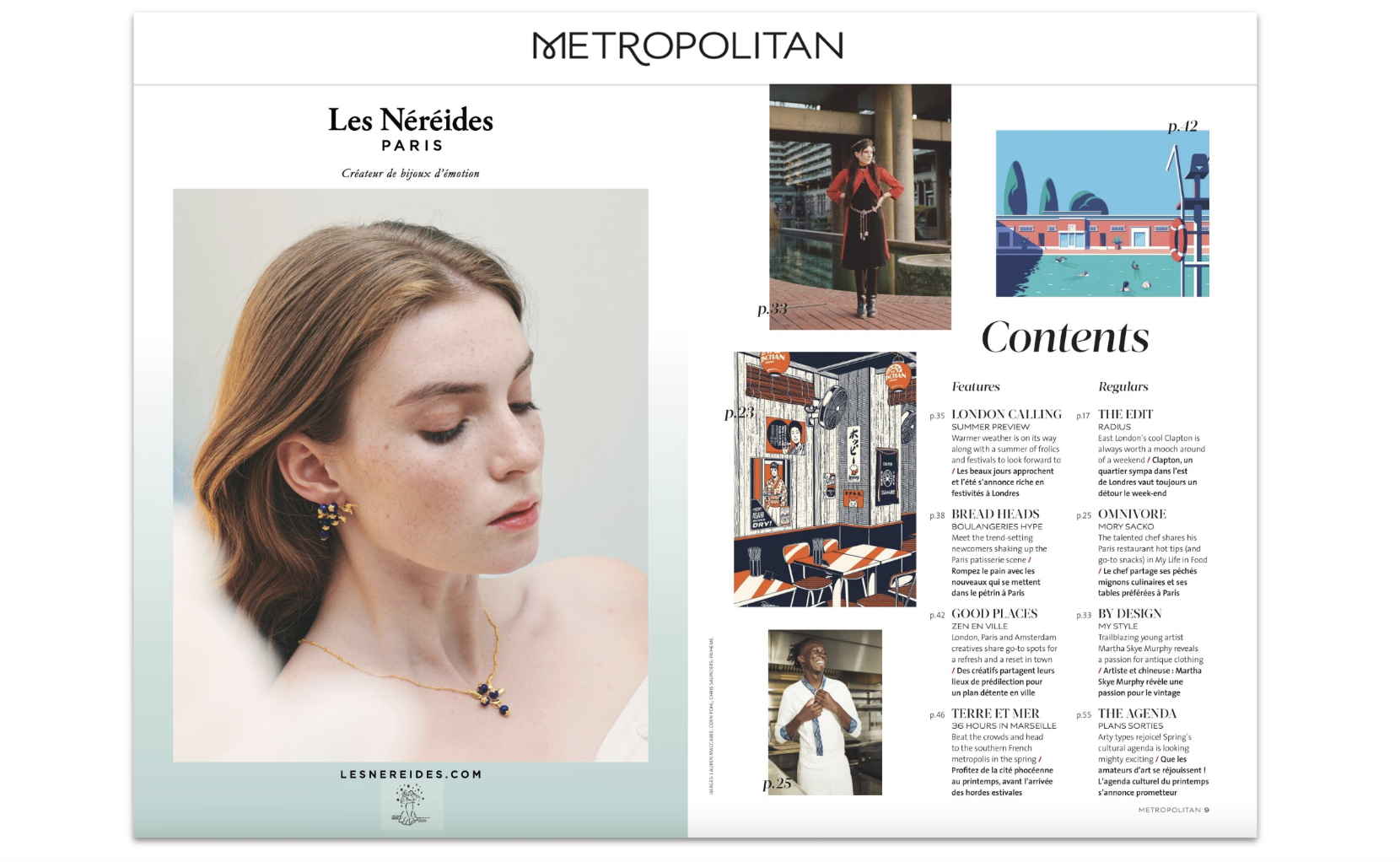 The magazine also supports diversification of revenue streams by selling advertising spots within the magazine to other brands based in these 4 cities/countries.
✅ Increase retention rate of customers through engagement, deepening the brand-to-customer relationship and bettering their travel experience on Eurostar
✅ Additional revenue stream through advertising
✅ Positions Eurostar as experts of travel in these cities, making customers automatically think of Eurostar when planning to travel
Welcome to the Jungle
Welcome to the Jungle is an international brand who 'builds products that transform the work experience'. However, they've also developed their own digital publication (on the same website but named 'Welcome to the Jungle, work for more') producing content on life at work as well as providing companies with their own page to promote job offers and allow candidates to apply for positions.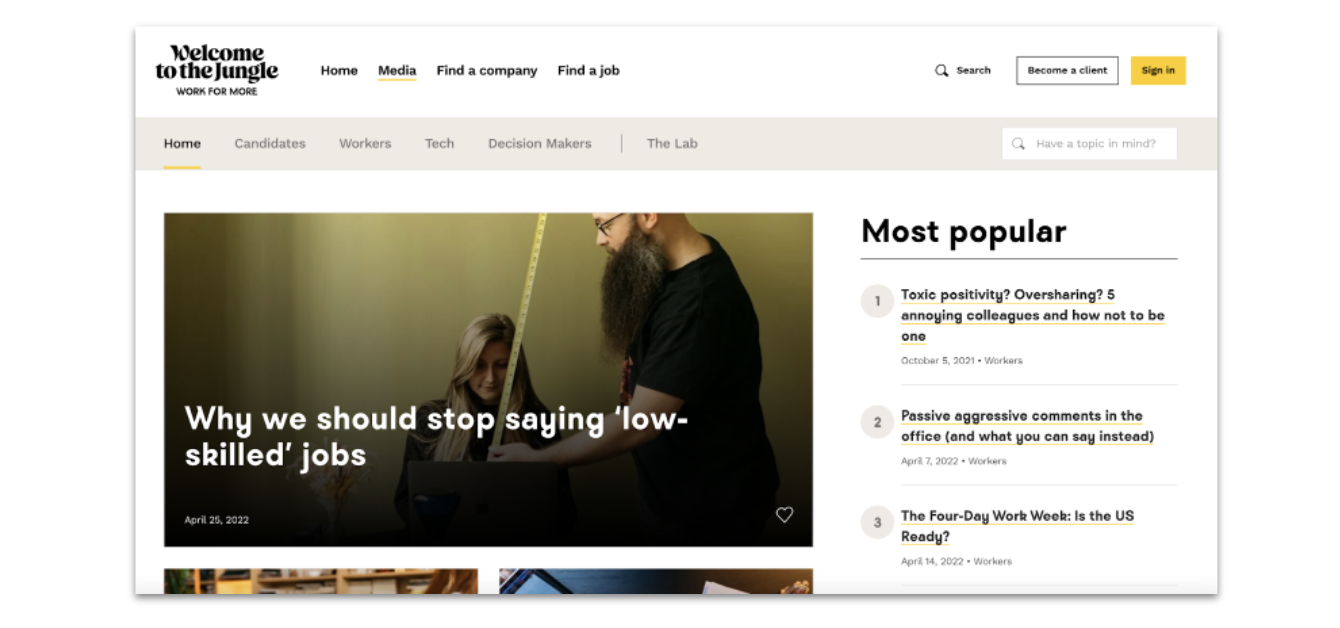 Whilst content is free to consume, readers are encouraged to create a free account by signing up via the registration button in the corner. A pop-up sign-in appears and we're offered the option of registering with Linkedin (a social media associated with WTTJ's content), Google or email. This facilitates the registration process and allows for data sharing between the brand and the social media company.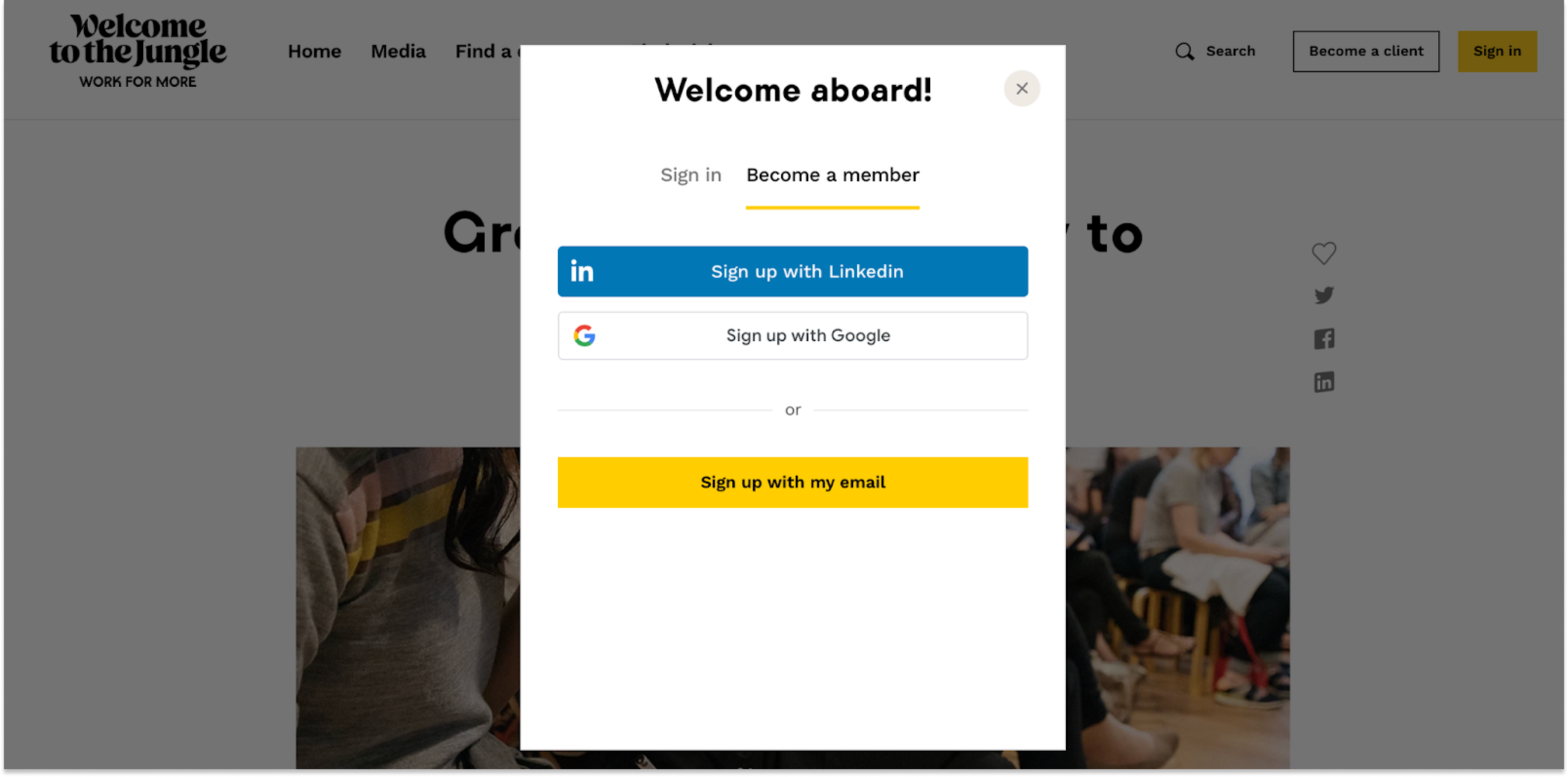 This initial step is very simple, but we're then asked for additional information to provide the brand with key data points associated with their content.
💡Top tip: only ask for what you need. Too many questions can be frustrating and turn potential registrants away.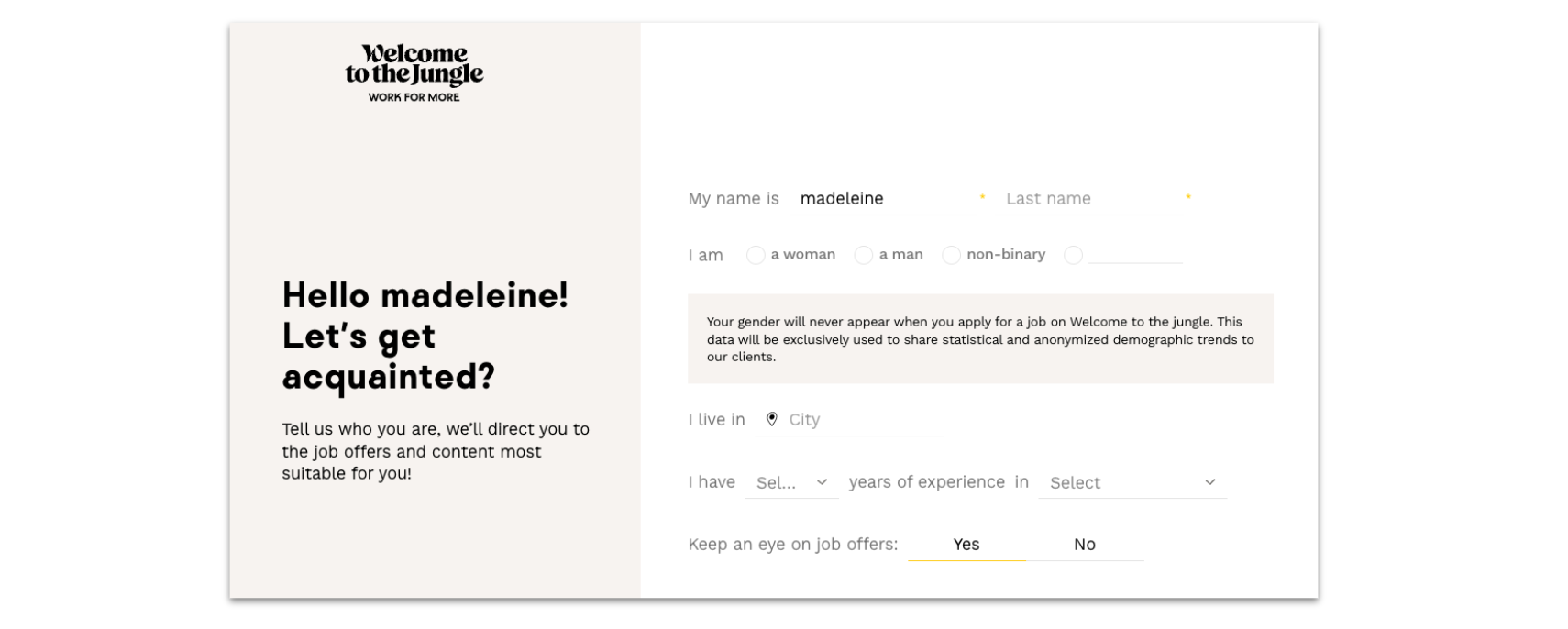 Registration comes with a handful of benefits, such as being able to 'like' content, follow topics/authors and save job offers for later which are then available in the user's personal account space. This provides added value and a reason to create an account.
What's more, even the simple use of the word 'Member' creates the idea of a community of engaged, registered users, allowing WTTJ to develop close, lasting relationships with their audience and increase CLTV. After all, engagement predicts LTV, which naturally links to revenue.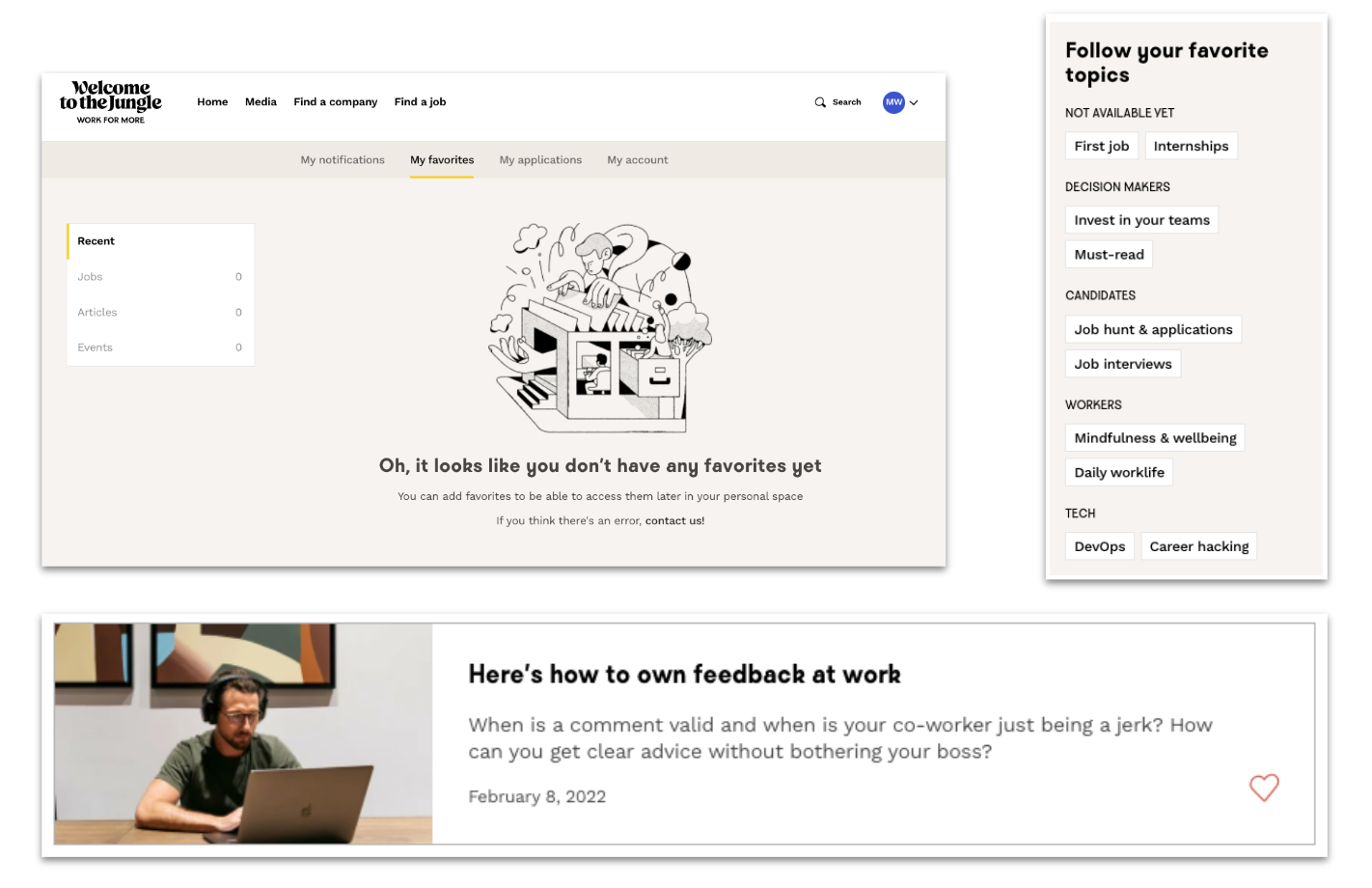 ✅ Registration for lead generation, data collection, increased engagement and building lasting relationships with users
✅ A clear value exchange is established – WTTJ benefit from the above, whilst users can save content and job offers for later, follow topics and join a community of members
✅ Community building to aid acquisition and retention efforts
✅ WTTJ position themselves as experts but also comes to the audience's level, appearing to understand their work-related problems and goals
The Hustle, by Hubspot
In 2021, the marketing software company Hubspot acquired The Hustle, publisher of a popular newsletter covering business and tech news. The Hustle already had 1.5 million newsletter registrants prior to the acquisition, as well as also offering audiences their 'Trends' subscription and a podcast named 'My First Million'. This has allowed Hubspot to acquire audiences, provide an additional service to their existing user/customer base as well as increase engagement through a variety of content formats.
"By acquiring The Hustle, we'll be able to better meet the needs of these scaling companies by delivering educational, business and tech trend content in their preferred formats," – Kieran Flanagan, HubSpot's senior vice president of marketing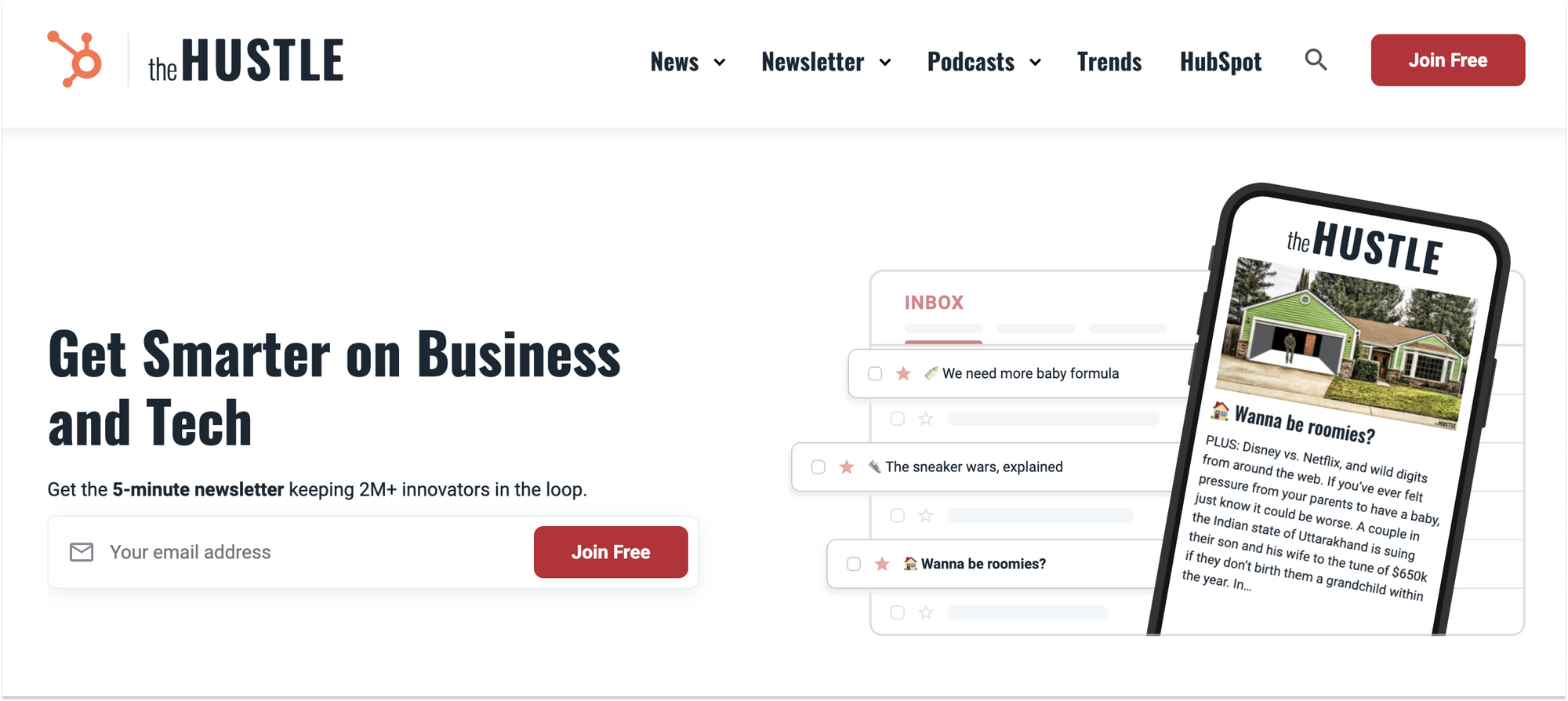 Newsletter sign up is promoted across the site – on the landing page, at the side of content and as a pop-up, each of which forefront the publication's value proposition whilst placing emphasis on the fact that it's free to sign up (a value exchange with users that doesn't require them to pay a penny).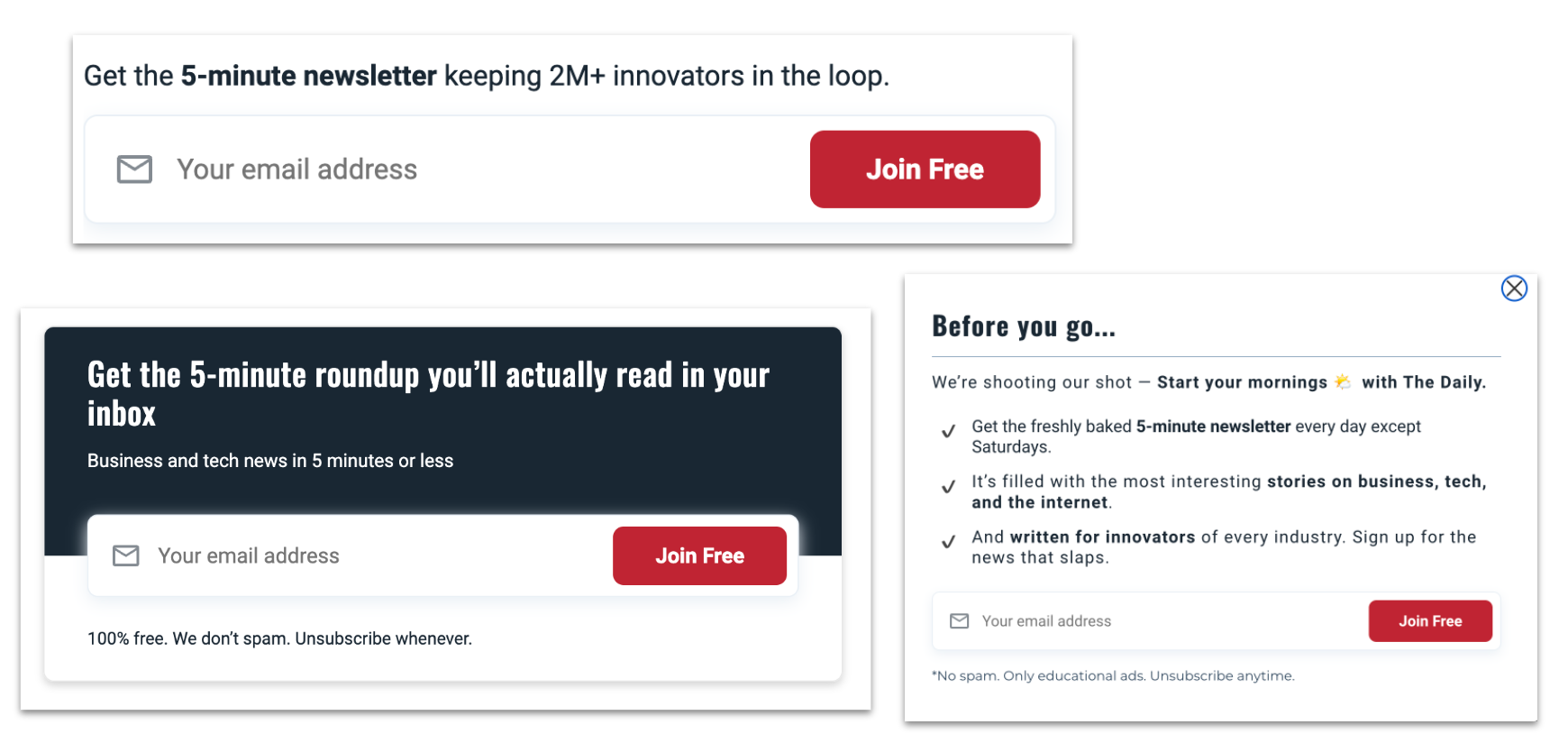 We're invited to 'join' other professionals (community building) with the focus being on a user gaining something from the newsletter that will help them to do their job better (the foundation of a good value proposition).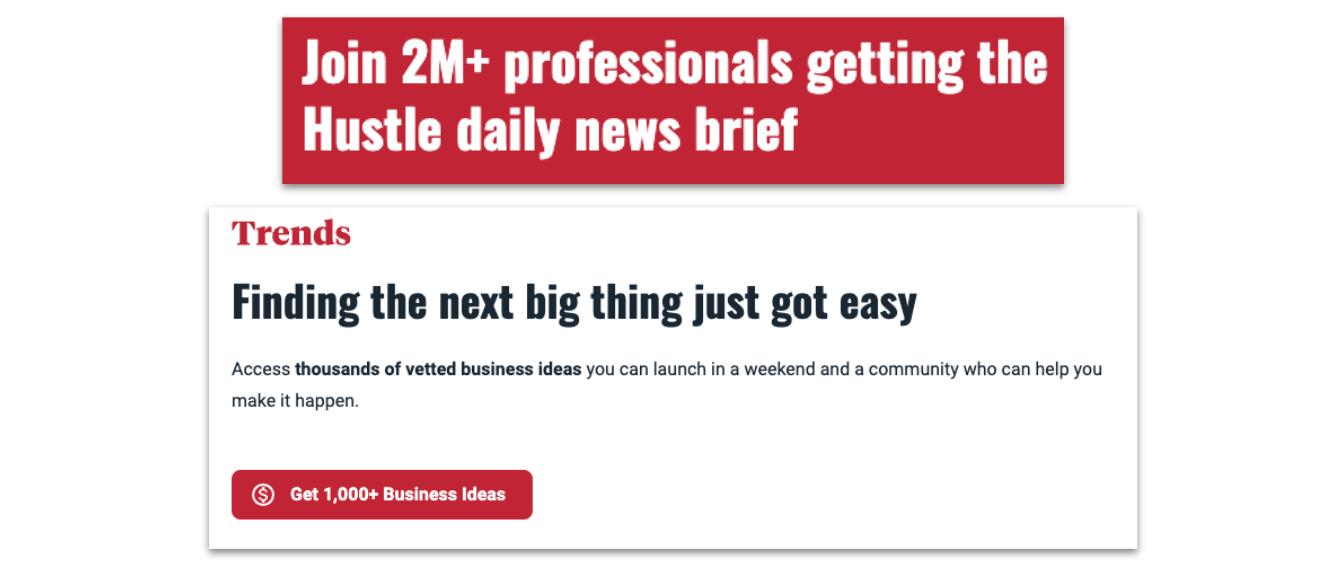 For the most part, The Hustle is brand agnostic, with very little mention or promotion of Hubspot. And, even when the brand is mentioned, it's done in a way that looks more like a content partnership or reference to an external source rather than direct promotion.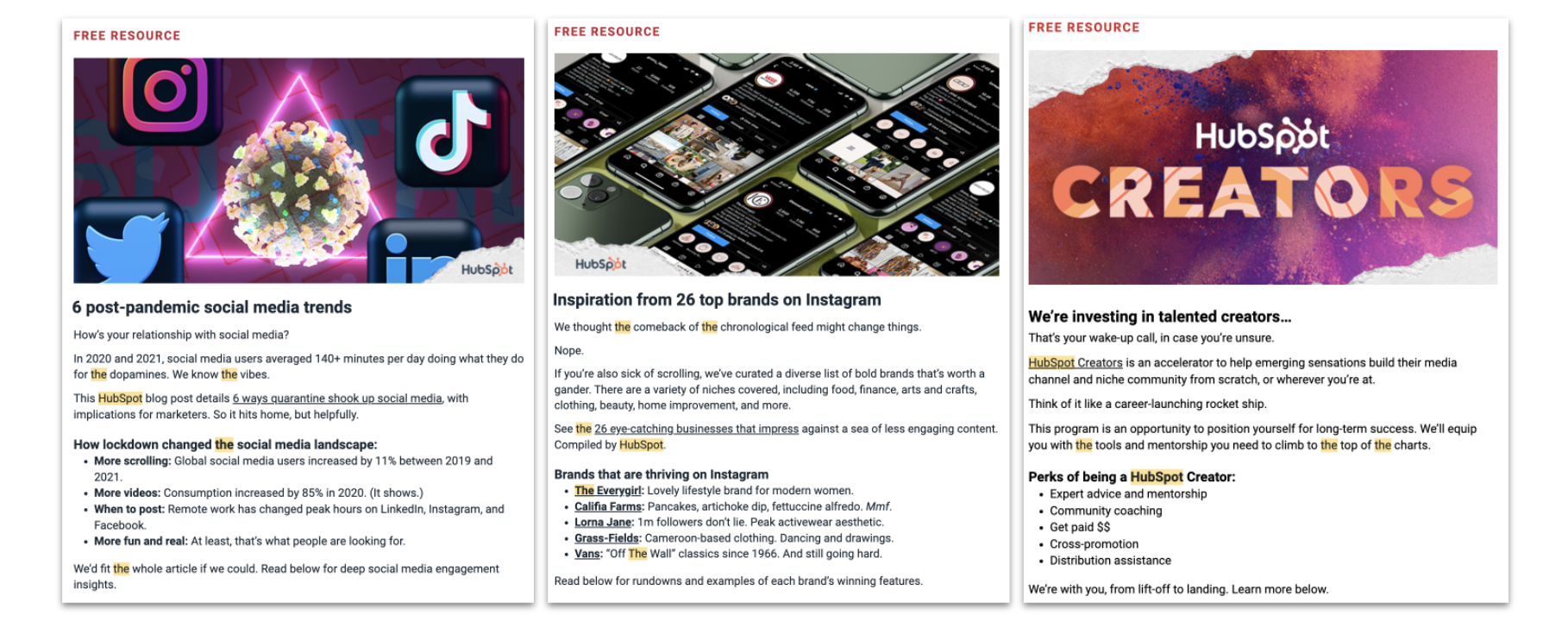 ✅ Newsletter sign up promoted across the site to collect first-party data and leads whilst also providing users with additional value directly to their inbox
✅ Acquisition allowed Hubspot to benefit from The Hustle's existing audience whilst also providing additional value to their current user base
✅ Variety of content formats and on different channels (podcast, newsletter and onsite)
✅ Brand agnostic but still beneficial for Hubspot
Tablespoon by General Mills
A website dedicated to sharing thousands of recipes and cooking inspiration, Tablespoon brings together content from the General Mills brands, including Betty Crocker, Pillsbury, Bisquick and Progresso. Thanks to the range, quality and varied formats of content on Tablespoon, it's without a doubt a cooking and recipe site that stands on its own without the need for brand support.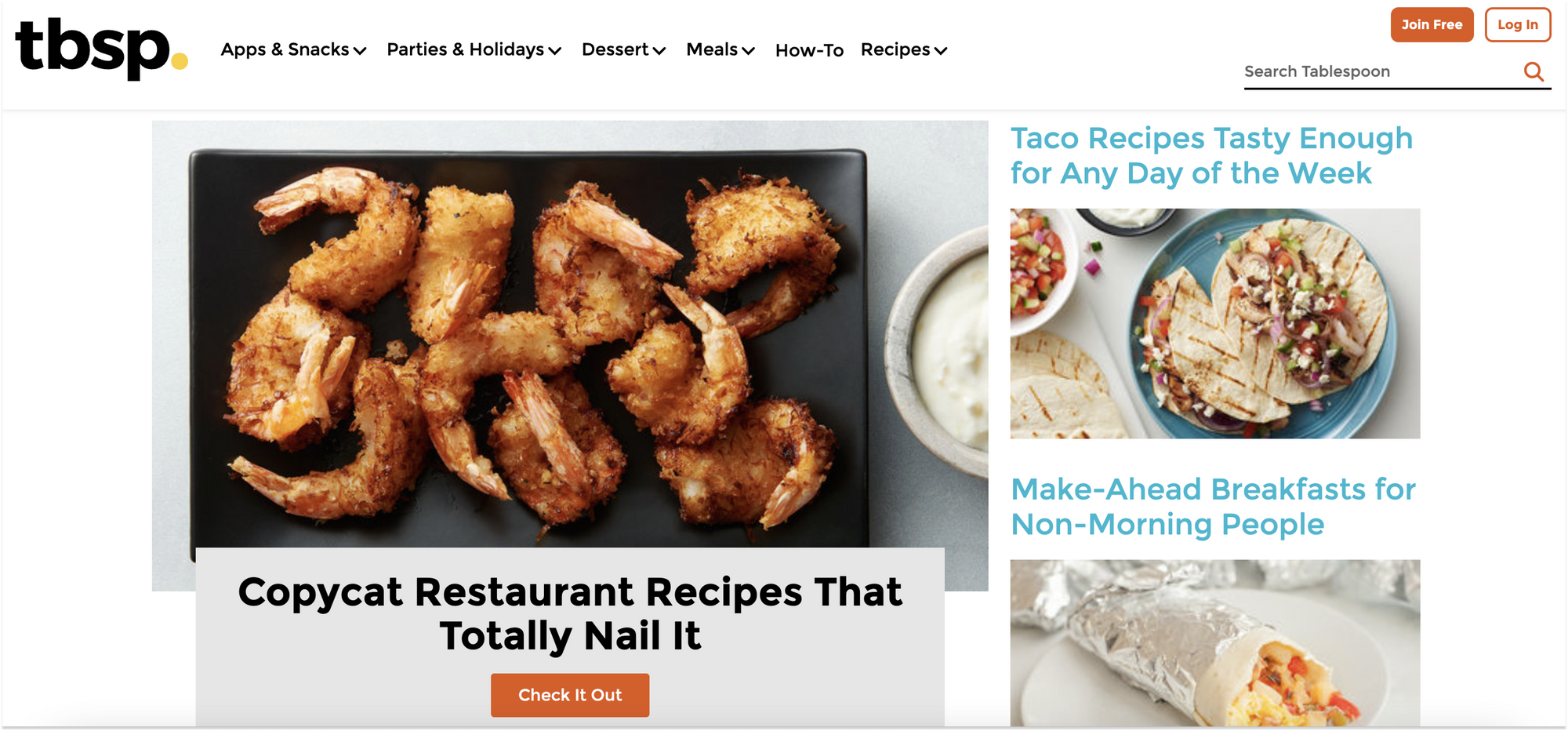 The website's content is open to all visitors, but registering as a member gives a user access to a variety of added value:
Content can be added to a 'favorites' section
Recipes can be customized
Content can be shared via social platforms
Members can save money with online grocery coupons
Access to a weekly email newsletter
Become part of a community of members
Whenever an anonymous user tries to access any of these benefits, they're taken to a registration page and required to create an account. This is also promoted in the corner via a CTA button highlighting that it's free to join.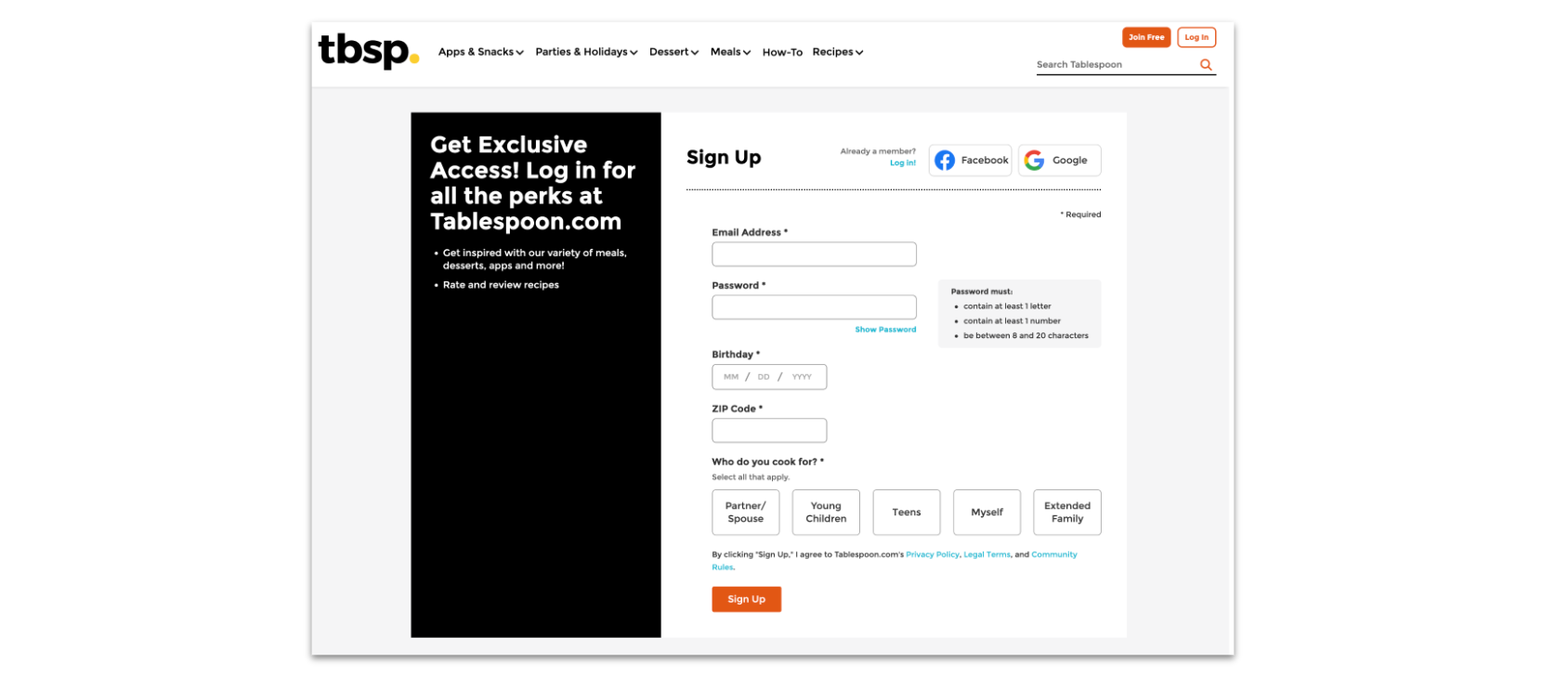 Very little information is required to create an account but these small questions alone give the brand some key data points that can be used to inform their strategy. Once registered, the user can be progressively profiled in order to build a more complete view of their profile and put this to use in targeting marketing campaigns.
✅ Registration encourages engagement and interaction as well as allowing for first-party data collection
✅ Additional value in exchange for creating an account alongside community building
✅ Quality content which is seemingly brand agnostic but subtly includes adverts and recipe ideas from General Mills brands
✅ Multiple content formats, including recipes, articles and how-to videos
Makeup.com by L'Oreal
The beauty brand L'Oreal has launched their own digital publication, covering 3 different sites, each with a clear, dedicated topic focus: skincare.com, hair.com and makeup.com.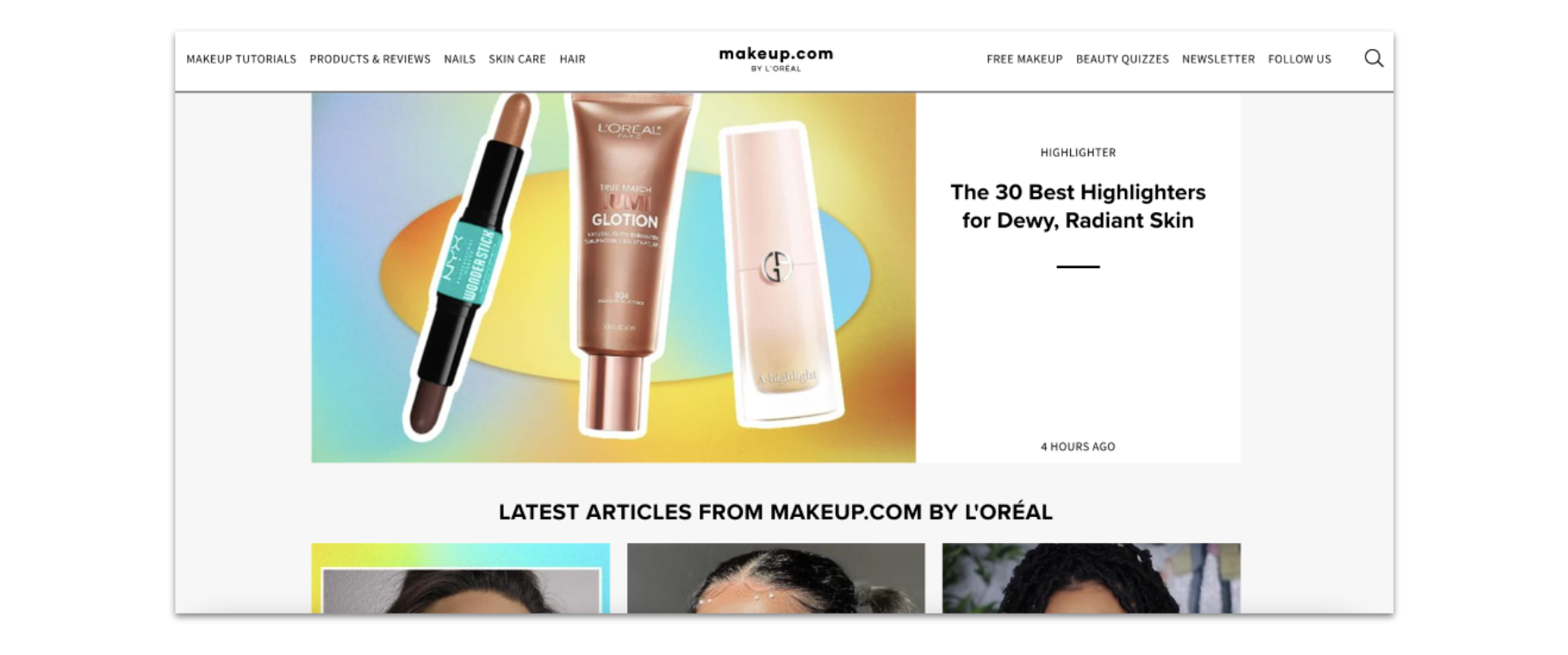 Although content doesn't always talk directly about L'Oreal products, there is a considerable amount of self-promotion and focus on their own brand. Although this isn't always recommended, the publication still gives value in the form of top tips, tutorials and interviews with experts. These therefore act as an accompaniment to their products, either developing loyalty and CLTV of existing customers, or supporting new client acquisition by targeting audiences who have an interest in makeup/hair/skin care.
L'Oreal also successfully increases engagement through publishing content in a variety of formats and via multiple channels – including interactive quizzes, newsletters and video content on Youtube and TikTok.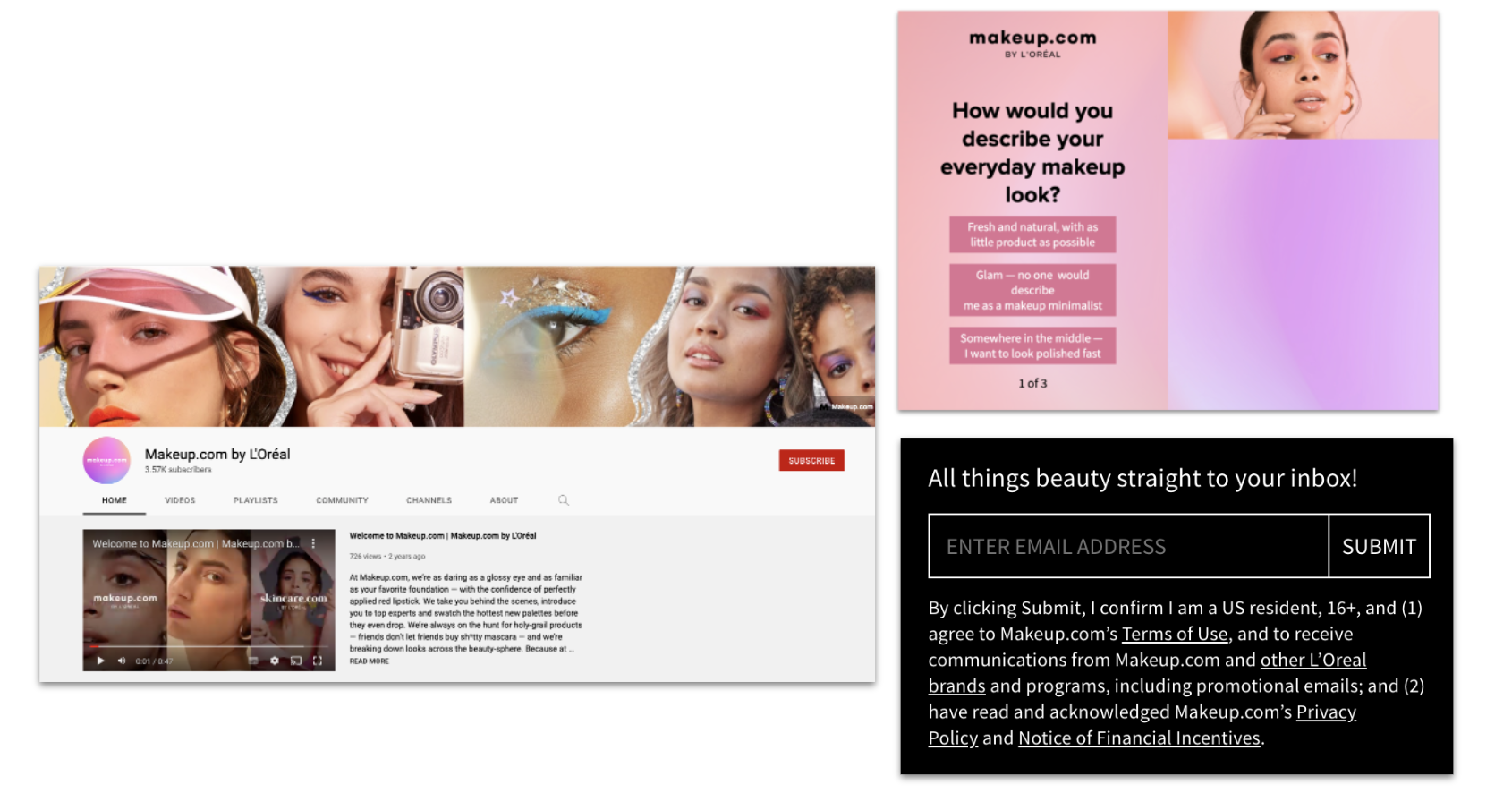 Content is free to access and there's no conversion walls employed, however the newsletter is promoted throughout the site to form a content consumption habit and increase engagement.
Overall, L'Oreal successfully positions itself as an industry expert through these 3 publications, transforming from a product-centric brand to be customer-centric, providing content that seems to understand their user's pain-points and help them achieve beauty-related goals (the foundation of a strong value proposition).
✅ Interactive formats (quizzes) to increase engagement and time on page, as well as collect valuable information about their audience to inform business decisions within the brand and publication
✅ Content in a variety of formats and mediums
✅ Positioning the brand as industry experts, growing credibility through customer-centric, meaningful and relatable content
✅ Directly supporting acquisition and retention strategies
Here magazine by Away
The luggage brand Away has cleverly launched a publication under the name Here, producing travel stories and pictures, often shared 'through the lens of local, creative, and influential people'.
Content is extremely well presented and has a creative flare that makes for an enjoyable user experience. Products from the Away brand are rarely directly promoted, but often feature subtly in images or as a passing thought.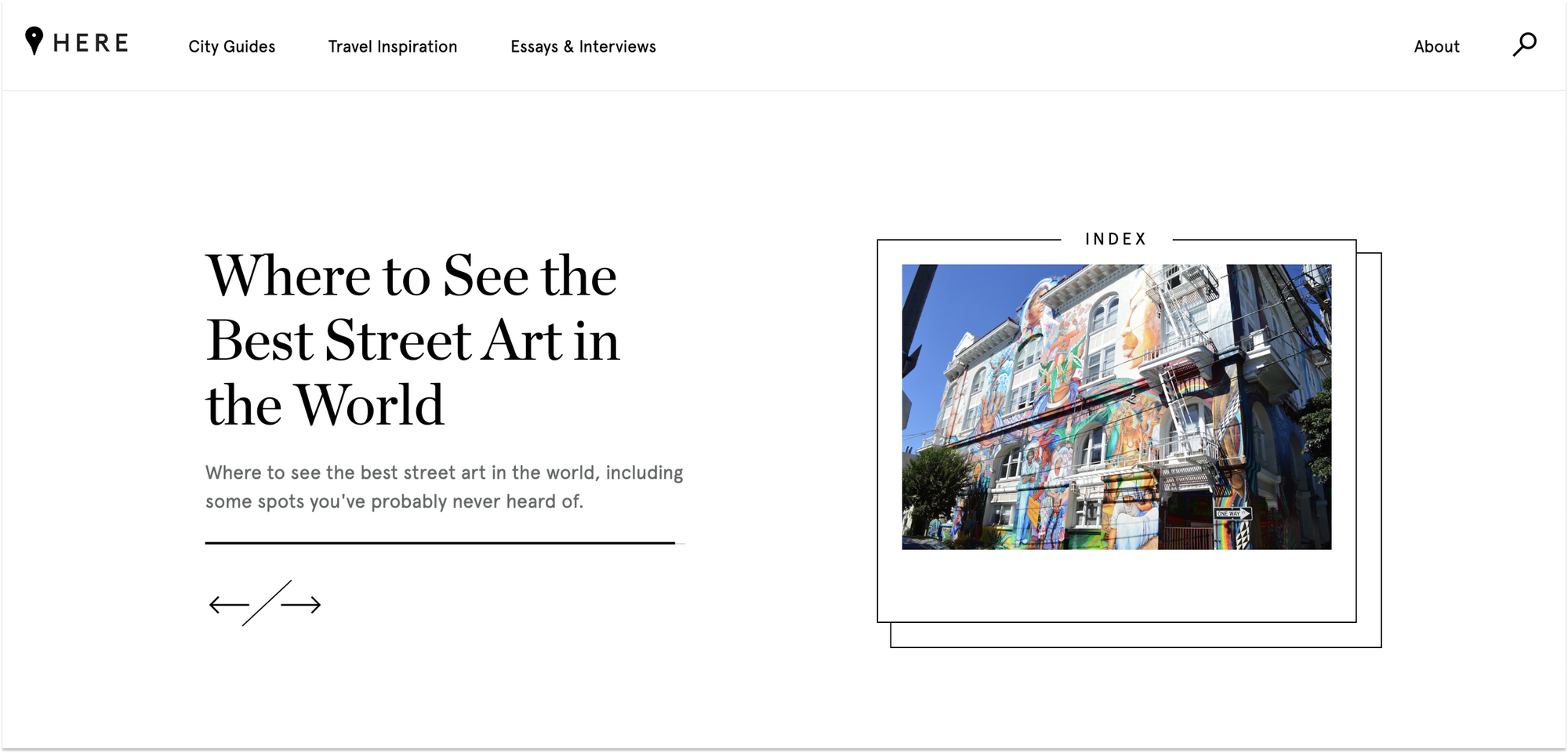 As much of their content focuses on the stories and experiences of influential people, a buzz is created around the idea of traveling, sharing and discovering cultures around the world, which naturally makes the reader want to travel. And what do you need when you travel? Luggage (cue the brand, Away).
The newsletter is promoted onsite for lead generation and increased engagement, however, interestingly, this signs us up for receiving information from 'Away' rather than 'Here'. Differently to the case of The Hustle and Hubspot, who are presented as two very separate companies, the lines between Here and Away are blurred.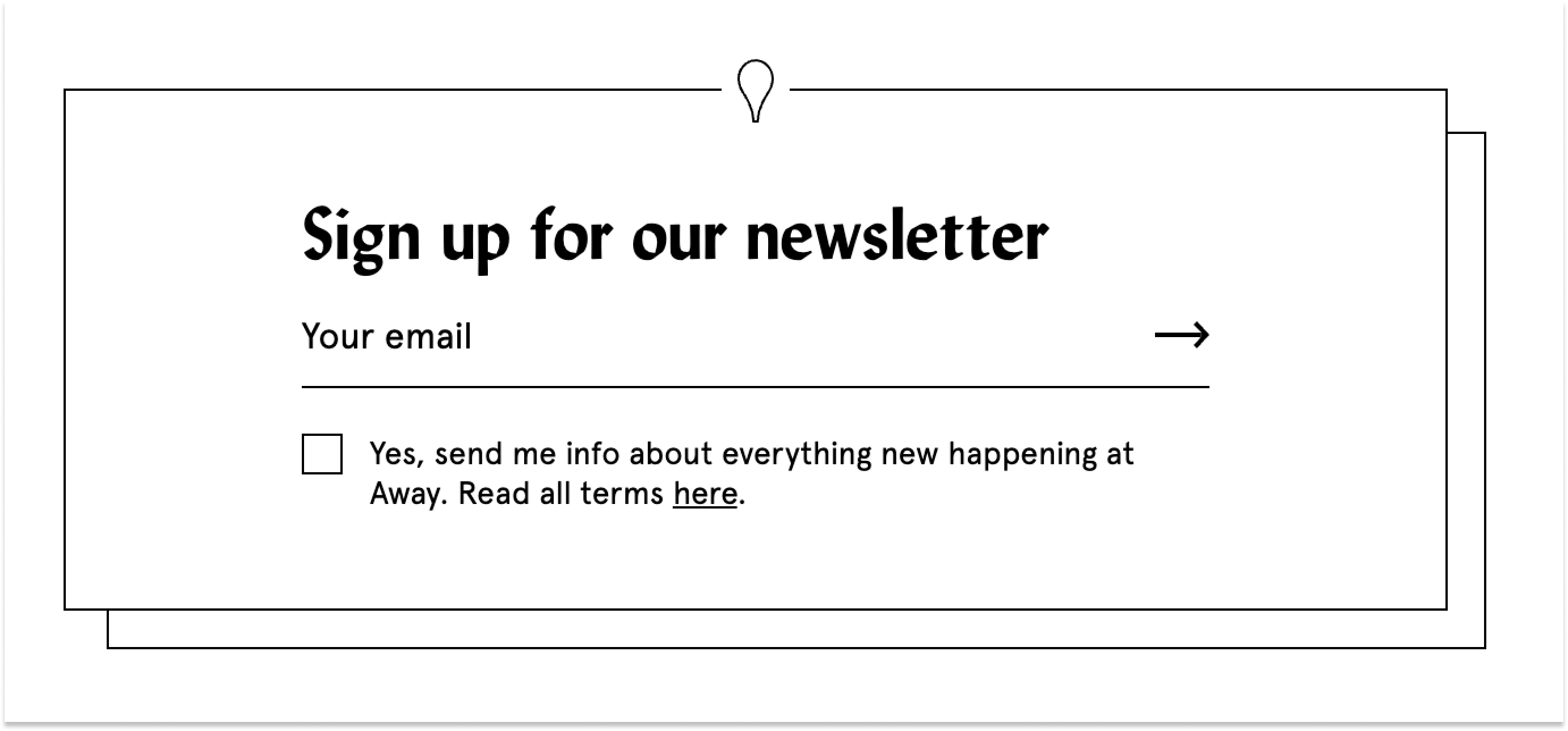 On Away's website, where they sell the travel products, content is promoted under the value proposition 'inspire your travels'. The goal here is likely to make a customer feel a sense of excitement about their trip and, alongside this, about purchasing items ready for the trip.


✅ Buildup of excitement created by Here's content to encourage a customer to feel the same way when purchasing products ready for their trip
✅ Implicit references to products throughout content
✅ Newsletter for increased engagement and lead generation
✅ Positioning the brand as experts in travel, implying that they know how to make quality travel accessories that suit your needs
---
The Audiencers' newsletter: from professionals to professionals
Sign up to our newsletter – real-life examples, expert points of view and inspirations from publishers around the world to help you do your job better. Sent every two weeks.