Ricki Lyngsøe is the Head of Subscription Marketing at Denmark's largest media publishing company, Ekstra Bladet, located in Copenhagen.
At Ekstra Bladet, Denmark's oldest tabloid newspaper and biggest online website, we are experimenting with different marketing tactics to encourage conversions from our free users. With more than 1 million daily unique visitors (approximately 25% of the Danish adult population), we primarily use our own site to promote this conversion, with our main company KPIs being page views, unique visitors and membership subscriptions. However, this tripod strategy is somewhat contradictory – we attempt to feed our audience with many, often quick, digestible stories whilst also trying to lure the more engaged users into paying for more in-depth content.
But how do we promote our subscription content without interfering with our ad sales income or compromising our page view KPI?
To address the goal of increasing our subscription body, we are highly reliant on utilising user data.
Advertisement is generally founded in some sort of data, and the quality of your data will most likely impact the outcome of your marketing activities. Luckily, at Ekstra Bladet we have some brilliant data scientists and engineers whose work has made it possible to segment users based on their interests and behavior. This data is the base on which our pop-up marketing strategy is built.
We have two pillars of pop-up marketing: always-on and tactical.
Our always-on pop-up is active at all times, except for external campaign periods where we change the price point across the site.
The pop-up is triggered based on user behavior. If a user has landed on our purchase site twice without converting or clicked on one of our articles positioned behind the paywall five times, they will be presented with an offer: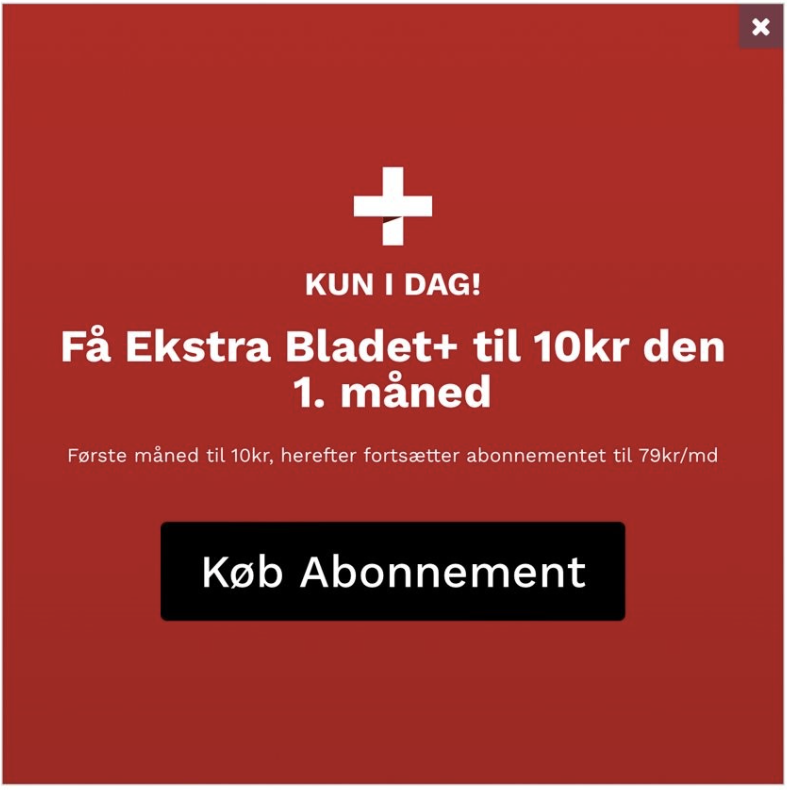 The pop-up is neat and discreet, taking up little space on screen, whilst still being obvious enough for users to see it. The message states that the offer is limited to today only, which makes it more urgent to convert immediately. If a user repeats the pattern for triggering the pop-up, it will be shown again.
After some testing we have identified an attractive price point, one that ensures a high conversion rate and acceptable retention after. Our regular price point is 79kr/m and the always-on pop-up campaign is 10kr/m. Surprisingly, the very low price point has shown more successful in retaining customers after the first discounted month versus higher price points.
In all, setting up a pop-up like the above is an easy exercise, if your data department is skilled. The results have been very promising, contributing to a 10% lift in sales over the summer.
What's more, the retention rate for new customers signing up through this purchase maturity trigger is only 8-9% lower than regular customers.

The other way we utilise pop-ups is through a tactical approach.
We all experience days or weeks where sales stagnate or decline. With the current economic climate, us and the industry as a whole are seeing decreasing sales, especially at the end of the month or near payday.
To combat this negative spiral, we activate a similar pop-up with a broader target. In more desperate times, we do accept that our subscription marketing could collide slightly with external advertisement space, hence we trigger pop-ups on the front page and not only to purchase-mature prospects.
This pop-up is similar in look and feel, as it needs to be familiar to readers, fitting in to our brand identity. This ensures that the broader user group we promote to recognize the pop-up as something brand-related instead of regular external advertisement.

The price point has been tested and proven to be more effective when slightly higher than the always-on option as regular users need a higher price offer to stay retained for longer. We targeted 30% of random visitors on our site with this pop-up which, like the always-on creative, did not seem intrusive to the user experience but was still eye capturing enough to be noticed by most of this segment. The target group was only hit once by this offer as the message once again stated that it was a one time opportunity.
The results were positive. Mostly due to decent sales in difficult periods, but also because it had no impact on our advertisement placement income.

 The only negative outcome was a lower conversion rate that indicated low inclination to purchase. Whilst this pop-up saw more than 1 million sessions, it only led to 253 sales, meaning we might conclude that our regular users don't have enough incentive to upgrade to a paid membership. This can be put down to many factors: perception of the offer, that day's offer of articles, the economy or simply a lack of money as we approach pay day.

 Overall, pop-ups are a great way to show different offers to specific target groups without having to spend big budgets on external agencies, designers and paid media. All it takes is a great web and data team, a willingness to test and some creative minds.
---
The Audiencers' newsletter: from professionals to professionals
Sign up to our newsletter – real-life examples, expert points of view and inspirations from publishers around the world to help you do your job better. Sent every two weeks.