This article is part of a series of deep dives into digital publishers' subscription models, bringing together Lennart's key takeaways from his podcast conversations (available in German) and Madeleine's research on the wider publishing community.
Babbel is one of the most successful language learning apps in the world and, by their own admission, they have already sold 10 million subscriptions. Yet they operate in a particularly challenging market. Many customers subscribe to learn a new language for their upcoming trip, but then realize how difficult it is to stay motivated. Not to mention the competition with VOD platforms, news media and other subscription sites to secure a place in their consumer's monthly spending…
In this episode, Nina Pollex, who led the CRM team at Babbel for almost 10 years before recently moving to paramount+, told us how they managed to build long-term customer relationships and a growing subscriber base despite these challenges.
You can listen to the full episode at www.subscribe-now.de.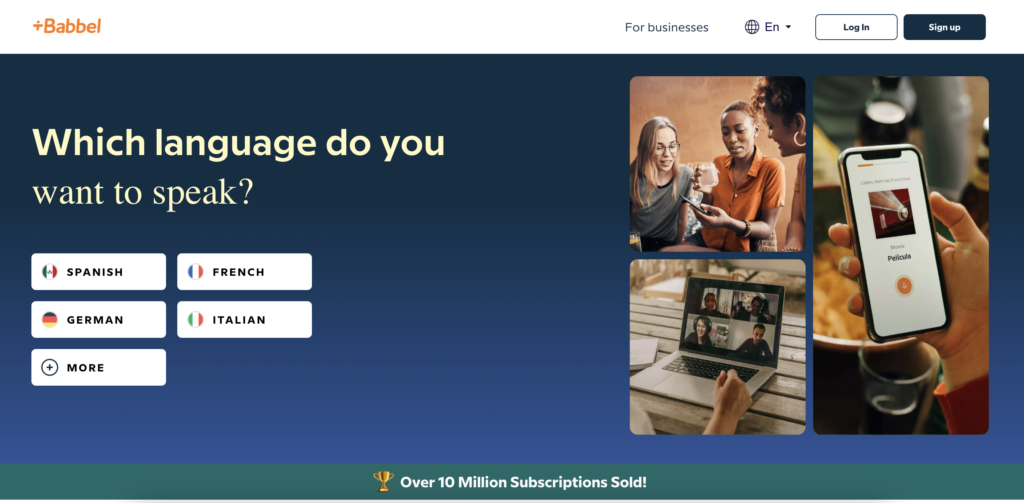 Here are four learnings Lennart took away from the conversation:
1. Humans and machines should work hand in hand
Babbel uses a self-optimizing algorithm to re-engage inactive subscribers, which decides which campaign the user gets to see. The team manually creates policies, which the algorithm then tests against each other and chooses a winner. Policies that the team would not have expected often win. This shows once again that human creativity combined with automated testing leads to the best results.
Transfering these learnings to more traditional publishers, Media Voices' recent report, Practical AI for Local Media, shared much the same opinion.
The report shares some of the key benefits of AI as 'doing more, faster' and, importantly 'delivering returns'. But they also highlight what AI is not. It's not magic, it's not a replacement for journalists and it's not about technology.
"Charlie Beckett, head of the Journalism AI project, describes AI in journalism as a disparate collection of applications. The one thing they have in common is that they're all trying to help journalists cope with an overabundance of information.
"It's not about the technology," he explained. "We've got people who are trying to create products. They're trying to create tools, or very importantly, trying to see how that tech fits into a system that will use it in an efficient and effective way."
Working within established tech stacks is crucial in making AI useful to newsrooms of all shapes and sizes. The most automated content is of little value if it can't be delivered to the right people in the right place at the right time"
The conclusion, however, is that by combining human creativity, experience and expertise with machine learning, producers of all types of content can add real value to their business model, using it to increase engagement, optimize conversion rates, personalize experiences and reduce churn, just to name a few.
Just look at The New Yorker's recent cover…

Find the full report on Media Voices.
2. Subscription terms are an important lever to increase customer lifetime value
Babbel has increased the minimum subscription term from one to three months, and hasn't noticed any significant drop in orders. Overall, they're trying to make longer subscriptions more attractive to maximize customer lifetime value early in the conversion process.

On this same note, the mode of payment can have a significant impact on retention rates. Paying for subscription by credit card is the most common method of payment, and by far the easiest. But it's also the one that presents the highest risk of unsubscribing, whether voluntarily or not, due to their relatively short validity period or in the case that the card is blocked, stolen or lost.
To avoid this pitfall, increasingly more publishers are encouraging payment by direct debit or annual (over monthly) subscriptions, often promoted with a tempting discount.
For instance, Mediapart offers a classic subscription at 11 euros per month or 110 euros per year (i.e. two months free), plus three additional months free if paying by direct debit. I.e. a potential of 110 euros to secure a subscriber for at least 15 months. Even after this, the direct debit automatically charges the annual fee every 12 months.

3. Don't settle for the status quo – there's always room for improvement
CRM thrives on small, continuous improvements. Those who continuously test new options and question the status quo will see significant improvements in their overall performance. You shouldn't expect big leaps in one go. But small optimizations will accumulate over time and have a big impact on the end line.
And this applies to all aspects of a publisher's strategy.
Some other examples of publishers already embracing a test-and-learn mindset include:
EBRA media group in France who have been optimizing the performance of their conversion strategies through testing, learning and iterating
4. Personalization is good, individualization is better
Babbel tries to recommend the best next steps to each individual user in the CRM. And it makes sense – each learner has their own goals and needs. Which is why they not only want to create personalized communication, but also make each user feel like they're experiencing the app in their own personal way.
This starts from the very moment a user arrives on Babbel's site. We're led through an onboarding series that reacts to a our unique responses:
PS from Lennart: If you like the podcast, I'd be happy if you recommend it. It's still a very young format without a big media company behind it, so it will find new listeners primarily with your help!
---
The Audiencers' newsletter: from professionals to professionals
Sign up to our newsletter – real-life examples, expert points of view and inspirations from publishers around the world to help you do your job better. Sent every two weeks.