You're reading The Audiencers' newsletter #12, sent out on April 19th, 2023.  To receive future newsletters straight to your inbox every two weeks, sign up here.
In The Audiencers' Newsletter #12:
Ask the experts: what are the most valuable engagement metrics to measure in a subscription model?
Paywalled content: rethinking your premium icons
New benchmarking article: how 3 successful British publishers are onboarding subscribers
Recommendations to add to your reading list: from The Audiencers & friends
Little note before diving in – I'm going to be in Vienna next week for WAN-IFRA's Digital Media Europe event! Drop me a message if you'll be there, I'd love to meet up.
Ask the experts: what are the most valuable engagement metrics to measure in a subscription model?
After the success of our first "Ask the expert" on newsletters, we're back with another on how best to measure engagement.
Whilst there's no shortage of engagement data available, many are struggling to prioritize metrics, understanding which are actually valuable to track with the end goal being to increase reader revenue. So, what KPIs do the experts recommend tracking?…
According to Katja Fleischmann, product manager at dpa infocom, and Dr. Ole Martin, data scientist at Schickler consultancy, media time is the most important – an easy to understand metric that looks at how much time a user gives you, something that has proven to predict conversion and churn very well.
"The conversion probability increases by 130 times if the media time increases by 10 minutes per week. The churn probability is halved if the media time increases by 10 minutes per week"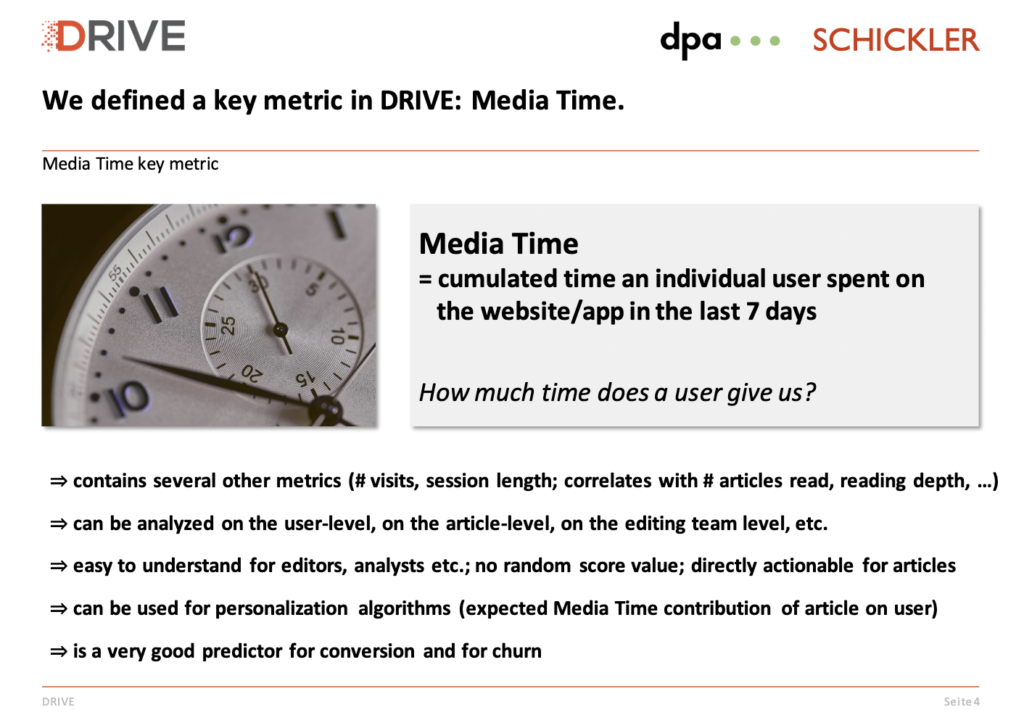 Steve Price, digital publishing consultant, told me that, ultimately, it's about linking engagement to the pounds, dollars and euros.

To do this, he recommends putting LTV (lifetime value) as your north star KPI, analyzing your high-value subscribers & asking yourself what 'type' of engagement correlates with high retention rates.
The key: instead of starting with engagement, turn to look at your most loyal subscribers to discover what engagement actions are linked to highly valuable users.
Think of subscription as a bucket with holes. Users flow through but engagement fills the holes, keeping people in the bucket. Engagement is therefore a tool to persuade someone to convert and stay, rather than the goal in itself.
For Katja Trost, Teamlead Customer Retention at Die Presse, the most important metric for subscriber growth is churn rate:
There is no doubt that acquiring a new subscriber is much more expensive than retaining an existing one."

"The key to growth is subscriber retention: spending time, money and energy on growth without fixing retention is like sailing a boat with holes in the bottom! During our off-boarding process we try to win back lost subscribers with an attractive offer and by triggering FOMO. In this context, the return rate is a significant metric.  Nonetheless, it is most important to prevent churn in the first place. One approach to achieve this is to identify customers who are likely to churn or show low engagement. In such cases, we attempt to revive the so-called "zombie" users, who have not interacted with us for a considerable period of time, by implementing appropriate strategies."
> Hear from other experts in the full article on The Audiencers.
Paywalls: rethink your premium icons
"As publishers either implement or revisit their paywalls, a question always arises: How should we label or illustrate our premium content?
Star, diamond, padlock, or nothing… publishers are trying out different icons to mark their paywalled content as premium. But what if we're looking at this wrong?
Dagens Nyheter are doing something clever. They do have a label on premium content – but you have to be logged in as a paying subscriber to see it:

Instead of telling readers what premium content they don't have access to by not subscribing, some publishers are instead telling the premium users what premium content they have access to and which the free visitors don't.
It makes sense, because you play your website, its architecture and your content to its strengths.
Telling the recipients of your newsletter or people scrolling your front page that a given article is only for paying subscribers might be a nice service to the readers and spare some of them a visit to a site where they don't have access.
But, arguably, it isn't going to get you a lot of new subscribers.
So, stop excusing for yourself and your content and think about how you want to market your premium content on your website and channels.
New benchmarking article
We did the research, so you don't have to!
🇬🇧 How 3 successful British publishers are onboarding subscribers.

According to Press Gazette's list, The Times & Sunday Times (no.13), The Telegraph (no.16) and The Economist (no.4) are amongst the best news brands in the world at converting users into subscribers.
But, as we know all too well since the subscriber-boom during the pandemic, converting is one this, retaining is a whole other story. One that begins from the moment a user clicks 'pay'.
So, how are these successful publishers leading their new subscribers through an onboarding journey that seeks to activate key engagement features and increase LTV?
> Our latest benchmarking article dives in
In-house content to read…
…and recommendations from elsewhere
🇩🇰 Stavanger Aftenblad's Elin Stueland explains why their automated reporting on junior football has led to more journalists being hired.
🇬🇧 PA Media's Joseph Hook, editor of the RADARAI service, talks about how they dig into national data sets to create local stories.
🇸🇪 NTM's Jens Pettersson shares how robots reporting on basic stuff can surface bigger stories for journalists to dig into.
🇳🇱 NRC's Luuk Willekens explains how newsletters which include content personalized on users' reading history, drive engagement.
🇺🇸 McClatchy's Cynthia DuBose reveals that they now estimate that two thirds of their AI real estate content readers are first time visitors, driving audience growth for the group.
---
The Audiencers' newsletter: from professionals to professionals
Sign up to our newsletter – real-life examples, expert points of view and inspirations from publishers around the world to help you do your job better. Sent every two weeks.