You're reading The Audiencers' newsletter #21, sent out on September 6th, 2023.  To receive future newsletters straight to your inbox every two weeks, sign up here.
Registration walls are gradually making their way onto publisher's websites, what with their benefits to both advertising & subscription models. But some are going a step further to offer registration whilst promoting subscription simultaneously.
Below, examples from The Washington Post, Bloomberg, The Independent & EBRA media.
Each offer 2 options to access content:
> Free registration with the benefit of accessing a limited number of articles (in the case of EBRA, top left, newsletter subscription instead of registration, with a drop down field for the reader to select their preferred newsletter)
> Subscribe for unlimited access and additional benefits – notice the design difference used to make this option stand out from the other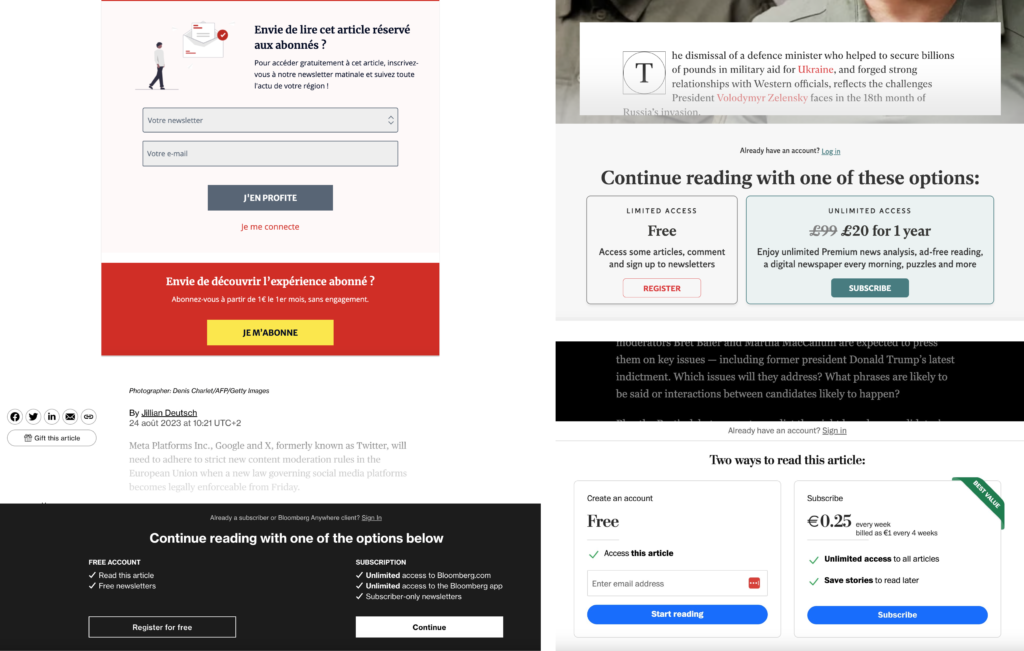 In The Audiencers' Newsletter #21:
🇪🇸 Hyper-local news via WhatsApp – the innovative new media taking the Spanish town of Pamplona by storm
🇳🇴 Aftenposten offers young readers a free subscription during the Norwegian elections
📱 How to optimize conversion rates on mobile apps – new benchmarking article
🇬🇧 The Audiencers' Festival – session spotlight: From community to a growing subscriber base with The Independent
Hyper-local news, via WhatsApp…
The Spanish news media, Pamplonews, has taken the innovative approach of using WhatsApp as their sole delivery channel, making the most of the platform to cultivate a personal rapport with readers
A style that's easygoing, engaging, surprising, and approachable to match the 'personal, informal' format on WhatsApp – "The proximity this affords is unparalleled— we're always just a message away"
"Unir a la comunidad" – A focus on topics that unite… "We believe in community, shared experiences, and stories that resonate with everyone, regardless of differences."
Two key metrics measure success: the number of subscribers, an index tracked diligently on a daily basis (they've now reached 3,750 subscribers in just a few months!), and the count of unsubscribes
Monetizing through partnering with local advertisers, offering exclusive deals and discounts from local businesses, setting up an e-commerce platform and developing a premium model in the future

> Find the full interview with Juan Andrés Muñoz on The Audiencers
🇪🇸 Si quieres leer más en español, te recomiendo el boletín de Ismael Nafría -> Estas son las claves de Pamplonews, el medio digital local a través de Whatsapp que tiene ya 4.500 usuarios
Aftenposten offers young readers a free subscription during the Norwegian elections
There's a lot of talk at the moment on how to acquire young subscribers, as well as the ongoing discussions on how to balance monetizing journalism whilst also ensuring it's available to all, helping citizens make responsible, informed choices rather than acting out of ignorance or misinformation.
Aftenposten has taken an innovative approach to these two challenges, offering young Norwegian readers a free subscription during the parliamentary elections.

*Page translated into English by Google
I'd be interested to hear how this strategy has performed, whether there's a marketing campaign planned for these readers following the elections, and how many go on to pay for subscription.
Increase conversion rates on your mobile app
Given that traffic on mobiles is significantly higher than on desktop (78.2% according to research), apps play an important role in your digital strategy.
However, when it comes to reader revenue models on mobile, this same research showed that conversion rates are lower on mobiles than on desktop…
There's a variety of reasons for this – likely linked to the context of reading content on mobiles – but a paywall that isn't adapted to the smaller screen and device-type certainly has a part to play. Hence why our latest benchmark shares examples and best practices of paywalls on apps!

> Find the full benchmark on The Audiencers
The Audiencers' Festival – session spotlight: From community to a growing subscriber base
In its most simplest form, there are 2 steps to convert audiences into revenue:
Engagement – unlocking the revenue potential of your audience
Conversion – activating this potential to gradually increase revenue
The question then turns to exactly how this can be achieved.
For Mark Zohar, President and CEO at Viafoura, one of the most effective strategies involves building a community of increasingly more engaged and loyal users, whilst continuously moving them through a funnel of value exchanges and direct interactions to increase revenue.
"All publishers with a reader revenue strategy aim to register or subscribe their audience. The problem, however, is when they try to go from 0 to 100 – from unengaged to a loyal subscriber.

You could compare it to dating – you wouldn't immediately ask someone to marry you (unless maybe if you're on 'Married at first sight'!), you'd ask them to dinner first.

Community helps to provide these intermediary steps, building engagement before trying to get value from your audience."
This is exactly the strategy applied by The Independent – who recently hit the significant milestone of signing up 5 million registered readers – a publisher that's become a cover star for building and monetizing community.
> Jo Holdaway, Chief Data & Marketing Officer at The Independent, will be discussing this successful strategy in more detail at The Audiencers' Festival on October 12th in London. Register your interest to join here.

Content to add to your reading list
Have a great week!
Madeleine
---
The Audiencers' newsletter: from professionals to professionals
Sign up to our newsletter – real-life examples, expert points of view and inspirations from publishers around the world to help you do your job better. Sent every two weeks.