You're reading The Audiencers' newsletter #9, sent out on March 8th, 2023.  To receive future newsletters straight to your inbox every two weeks, sign up here.
In The Audiencers' Newsletter #9:
User needs 2.0: a model that revolutionized the BBC and is supporting publishers around the world to put their audiences first
Connecting engagement to commercial outcomes: measuring engagement is only valuable if you tie it to your revenue
What's even better than a registration wall?… Onboarding registered users, a strategy to maximize on your registered users
Recommendations to add to your reading list: from The Audiencers & friends
Note from a reader: support The Gender Beat research project
User Needs 2.0
A model that revolutionized the BBC and is supporting publishers around the world to put their audiences first
The user needs model provides news organizations with a set of needs that most people have when they're consuming news content with the goal of helping publishers to be more audience-centric, better addressing their news needs.
"You tell a story you want to tell, but you do it from the angle your audience values – as simple as that." – Dmitry Shishkin, Independent Digital Publishing Consultant and self described news user needs evangelizer and enforcer.
It all started with Dmitry's work at BBC…
"The research conducted by the BBC in 2016 had taught us that audiences expect much more from newsrooms – they want to be updated, yes, but they also want to be educated, kept on trend, inspired, amused and given perspective, all on the key news topics of the day. See the slide below. Here is that initial slide."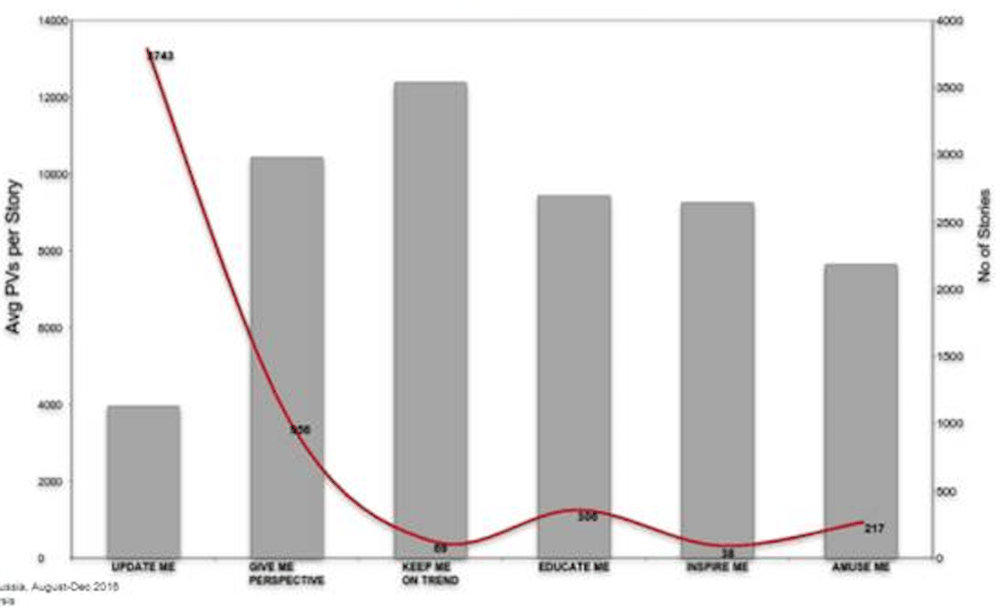 "In short, that newsroom was overdoing 'Update me' user need stories and not producing enough other angles. As effectively an internal consultant at the time, together with my team, we recommended BBC News Russian to address that imbalance by covering the news agenda through more analysis, context, explainers, original reporting, and cutting on the superficial noise."
5 years later, and…

"The changes in output are staggering: while the team cut down the total number of published stories by 60%, all average metrics per story per user need category grew, and the overall audience tripled" as you can see in the graph below.
This suggests a much better planning and commissioning process of stories that resonate, matter and make a difference, with much less waste. This also suggests consistency, the strategy behind tactics and creative execution, and above all, understanding your niche and your role in the market."

And, last week, Dmitry launched his user needs model 2.0
This model is designed to be more comprehensive & actionable than those before it, based around four essential and basic needs that readers have:
Emotion driven: feel something
Action driven: do something
Fact driven: know something
Context driven: understand something

Khalil A. Cassimally did a brilliant write up of the report for us, discussing the difference between version 1 & 2 of this model and how they've put it to use at The Conversation.
Connecting engagement to commercial outcomes
Engagement is widely recognized as a good thing…but measuring it is only useful if there's a clear understanding of what audience action is the target outcome, and how this ties to the pounds, shillings and pence.
Although commercial models vary across the media landscape, most align (broadly speaking) to the value curve shown below.

Engagement generates value by moving customers UP and RIGHT on this curve.

Moving customers UP in each stage generates increasing usage, customer data and advertising inventory. This can create significant value on its own, but also enables the development of richer customer profiles and habits that can be used to move customers from LEFT to RIGHT, growing customer value through transactions, subscription revenues and premium membership opportunities.
Laura Graham, leader of Manifesto Growth Architects's Media & Entertainment practice, works through the steps in this curve, sharing how engagement can be turned into high ARPU
> Find Laura's full article on The Audiencers
What's even better than a registration wall?… Onboarding registered users
Just like with new subscribers, leading registered members through an onboarding journey allows you to welcome them, increase engagement, form a habit, collect first-party data, reassure & build trust, provide immediate value and increase propensity to subscribe.
The New York Times is a great example with their 4-step onboarding journey:
✔️ Promote subscription with a special offer
✔️ Form a habit with their daily newsletter (notice the personalization based on the fact that I'm not based in the US)
✔️ Show the value of The NYT through their wide variety of other newsletters (with sign-up being as simple as a click)
✔️ Increase engagement and make sure members have constant access to The Times with their app

If you're already employing a registration model, maximize its value by adding in an onboarding journey, just like The NYT!
I posted this on Linkedin last week – give me a follow here for more benchmarks :)
In-house content to read…
…and recommendations from elsewhere
Note from a reader:
I'm currently working on a project called the Gender Beat — we are a collective of journalists who are interested in who is doing (and funding) gender/feminist journalism around the world, and what they might need to take their work to the next level.
To that end, we are mapping the ecosystem of gender journalism via a quick survey targeted at reporters, editors, activists, academics and funders of gender/feminist journalism. The answers we receive will hopefully allow us to advocate for greater recognition of gender and feminist journalism everywhere.
To make sure this survey is well rounded, the team are looking for support from those involved in audience development, so any responses would be greatly appreciated! Find the survey here.
---
The Audiencers' newsletter: from professionals to professionals
Sign up to our newsletter – real-life examples, expert points of view and inspirations from publishers around the world to help you do your job better. Sent every two weeks.